Cloud Watching
August 23, 2010
I lay in the grassy meadow, gazing up at the clouds as they floated along in that big blue sky. The same blue in the eyes of Demitri, a boy who was my absolute best friend, a boy who I was hopelessly in love with, a boy who would never know how I really felt.

I heard the faint sound of his breathing as he rested his head on my stomach with his hat covering his face, probably sleeping. I stroked his hair and closed my eyes and felt the warm summer air on my face. A breeze came by and took with it, his hat. He awoke and got up to chase after it. I rolled on my side and laughed as he tried to grab the hap flopping around in the wind like a fish out of water. When he finally caught it, he came back over and sat next to me. I sat up and looked into his beautiful sky blue eyes and he stared back in my plain old brown eyes.
We went on like this for what seemed like an eternity, but for what couldn't have been more than a few moments because before I knew it he was standing up and holding out his hand for mine. I took his hand in mine and stood up. He asked if I wanted to go on a walk, "Sure" I replied with a smile. Off we went, arms linked as we walked because, hey, we're best friends; it's what we do.
We walked through fields of grass, through the woods, and down a hill or two until we reached our destination; an old stone fort we had stumbled upon one day. This was our place and no one else knew about it. I loved coming here with him because we could just sit and talk and laugh for hours on end without anyone bothering us.
I was sitting on the ledge of one of the window sills when he walked over to me and leaned against the wall, looking at his feet and tugging on his shirt (he always did this when he was nervous, but what could possibly be nervous about?). I didn't have time to contemplate this any longer, fore in a flash he was by my side with those beautiful sky blue eyes of his inches away from mine. "You have really pretty eyes. Did I ever tell you that?" he said softly. I shook my head no, smiling to myself. He looked down at his feet and then back up to me again. I heard him inhale, saw him lean in, and felt as he rested his forehead against mine, staring into my eyes for a moment before he closed his and kissed me sweetly and softly.
I opened my eyes and instead of seeing those sky blue eyes I had come to love, I was staring at the chipped green wall of my bedroom. I checked the time, 9:42, I had to get up, Demitri and I had plans to go to the park today.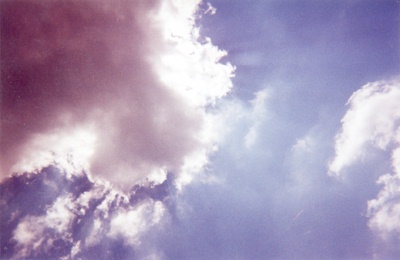 © Kena A., Huntsville, AL