The Girl with Wings
August 24, 2010
Footsteps. Running. Coming closer.
A flash of white.
Footsteps. Thudding. Coming even closer than I had expected.
A gasp.
There was a girl in my alley. The one where I was hiding. I stood up quickly, knocking over a few bags of garbage in the process.
"Bloody hell."I swore.
She didn't even look up. Didn't even try to hide the white wings on her back. I walked towards her, at first I stumbled in surprise, but I picked up a quicker smoother pace when I saw the tears in her eyes. Stopping in front of her, I managed to stammer a few words with minimum embarrassment.
"Er- who are you? I mean, you er- you know. . .?"
Finally she looked up, meeting my gaze directly.
"Have wings? Yes, I have realized no one around here has them. And, your question, I, um, don't know."
"Blimey," I ran my hand through the back of my overlong hair, "You don't know?"
She sniffed, "That's what I just said. I think, maybe I lost my memory. There was something I had to do. But all I can remember is running. I think there was something chasing me." and she burst into heavy tears.
"Right." And I awkwardly put my arms around her shoulders.
"I j-just wanna g-go h-h-home!"
I considered this for a moment, then spoke slowly. "I s'pose I could help you."
She looked up again, "R-really?"
"Yeah. Yeah I reckon I could."
"I think I would owe you then? I've seen before, people expect something in return?" she asked, now only shaking with soft sobs.
"Nah. It'll be enough just to, er= get out of this dump." I mumbled with a quick glance around the dark alley.
"Really? If you're sure. . ."
"Yeah, of course. First thing, you might want to hide your uh, wings."
"Good point. People might wonder." she said, and with those words, folded her wings in. For the first time I noticed she was wearing a lavender dress that reached her knees and her feet were bare.
"Don't your feet hurt?"
"Wha-" she followed my gaze. "Oh. A little."
"Come on. We'll, uh, find you some shoes and a jacket to cover those wings completely."
I found it hard to believe, a girl with wings, but when you've lived in the streets as long as I have, you learn just to go along with it.

********

"So. . .d'you have a name?" I asked, as we walked down the street.
My question was met by silence. No name. No memory. I could see why she wasn't very happy.
"Are we almost there?" she asked after a few more minutes passed.
"Yeah. Er- right there."
I walked into a small thrift shop. I watched as the girl stared at everything with wide eyes. Amused, I looked through the racks for a jacket. I waved her over and showed her a black one.
"Um. Okay. And what about these shoes?" she asked, holding up a pair of glittering sandals.
I grinned. "You won't fancy walking around in those." Looking around, I tossed her a pair of Chucks. "Er- actually, you might want to get some jeans too."
"Jeans?"
"Over there?"
Once she picked out a pair, I led her to the back of the store. Looking over my shoulder, I saw the cashier reading a magazine.
"Meet me outside." I said.
After she was back out on the sidewalk I hid the clothes and shoes in my leather jacket and hurried out.
"What was that for?" she looked flummoxed.
"Er- I had to nick these."I said sheepishly.
"What's that? You didn't . . . steal it?"
"Not exactly. Er- never mind."

********

We were sitting on the wall separating the beach from the street, watching the waves. This stretch of beach was usually deserted.
"Hey."
I looked up.
"What are those?" She pointed to a few seagulls circling overhead.
"Birds. Seagulls." I looked at her incredulously.
"I wish I could have that freedom. To fly in the sky, wings outstretched." she said, eyes on the birds.
"Can't you though? You have wings."
"Of course not. I would have already."
I sat thinking, wondering.
"D'you reckon you might've come from the sky?"
She looked at me, staring into my eyes. I had a strong urge to look away. Finally she looked down.
"I do wonder sometimes. I dream about flying over the clouds. At . . . different times during the day. Different seasons."
"Your wings don't work?"
"I- I don't remember how to fly. I've tried, these last few days, while you were asleep. But I can't."
And again, she started crying.

********

That night, the second night in the third hotel room I'd broken into through the fire escape, rather than falling asleep on the floor, I pretended to, and waited to see if she was going to test her wings again. It felt like forever until I finally heard the slightest creak of the bed, the faintest footsteps on the floor. I kept my eyes closed, hardly daring to breathe. And then, the door to the small balcony opened and closed quickly. I stood up, opened the door and walked out onto the balcony. She was standing, hands clutching the railing, wings unfurled. And I stood there, watching. Saying nothing.
She must have been concentrating hard on the prospect of flying, because she never even turned around. Her large feathery wings raised and she pushed off the ground and tried to flap them like a bird.
Little bursts of air blew into my overlong hair. It was a sad sight. A girl with wings who couldn't fly. Who couldn't remember anything, not even her own name.
She turned around, teary eyed and leaned her head on my shoulder. Startled, I put my arm around her quivering shoulders and patted her back.
"I said I'd help you get home, and if home is the sky, I'll do the best I can." I said quietly.
"You're the nicest guy. . ." she whispered.
"Easy to say when I'm the only one you know." I smiled wryly.

********

I was too uncomfortable to say it, but I wondered if she was trying wrong. But my thoughts were silenced when I saw a lone figure walking towards us. We were on the same stretch of beach as before, only standing in the sand this time. This was the first time I'd seen someone else here.
As the figure approached, I noticed it was a bloke around my age. Immediately, I scowled.
He had eyes only for her. I wasn't surprised.
"Hey. Haven't seen you around here before." he said.
She looked flustered. "Oh, um. . ."
He laughed. "What's you're name?"
"I, uh, don't . . . know."
"You don't?" he raised his eyebrows.
She looked uncomfortable, so I answered.
"No, she doesn't, mate. So leave it be."
He turned to me for the first time, "Did I ask you?"
"Actually, no. But I reckon you don't plan on leaving anytime soon, so I gave you an answer. Filthy git." I muttered the last bit under my breath.
"Really now?" he turned back to her. "If you ever want to hang with people besides," he gave me a sidelong glance, "this British street felon, the name's Caine."
Right as he turned to leave, I flashed him a rude hand gesture. Caine mouthed something I was sure were a few swear words.
"Um. . .what did that mean? The thing you did with your hand?" she asked after Caine was out of sight.
"Oh, er- it's meant to be rude."
"Okay."
I loved the way she asked questions and accepted the simplest answer in return.

********

If I felt so strongly about it being wrong she didn't even know her name, if she had one, then why hadn't I done something about it? Which was exactly why we were in a bookstore, looking through baby name books.
"I found one I like!" she exclaimed.
"What is it?" I asked warily. So far she'd found two names, one I couldn't pronounce, and one a boy's name. She'd said she hadn't realized because she was so excited to be getting a name.
"Ashlia!"
"Is that in the book?"
"No."
"Then where did you get it?"
"I was looking through the lists, and decided to mix them around. It sounds so pretty!"
She was beaming and I couldn't hold back a grin.
Ashlia.
It was pretty.

********

Living in a hotel was a lot easier than living in the alley. Even when breaking an entering was involved. The only potential problem was that I was nicking things a lot more than I used to. But at least I had clean clothes and wasn't covered in a layer of dirt as I'd been in the alley.
Today we were going to the park.
"I have a question." Ashlia said.
"Yeah?" I replied, keeping an eye out for the street the park was on.
"Well. . .you know how the other day, that boy Caine called you a . . . a British street felon?"
I grimaced.
"What's it mean?"
"British, like from England, you know, in Europe. Felon, like criminal. And he added the word street as an insult. Cuz I live in an alley." I explained.
"Oh. I was only bringing it up in case he called you that again. So I could tell him not to insult you."
"I don't plan on talking to that bloke again."
"He's over there. Coming this way. I think he saw us. Maybe not. Oh wait, why is he waving his hand at me?"
I chose not to respond, because in a few short seconds Cain would be over here. What a pain.
"Hey. Still don't remember your name?" he asked.
"Ashlia."
"Well Ashlia," he grinned, "Would you like to take a walk with me? Talk?"
"Um. . .sure." She looked more unsure than sure.
"Come on then."
She followed him uncertainly, throwing an apologetic glance back at me. I shrugged my shoulders and sat on a bench to wait.

********

"Caine said he can help me get back to the sky."
I looked up in shock. After having spoken with Caine, Ashlia had been quiet for a few hours.
"I, er- thought I was helping."
Great. Now this Caine bloke was going to screw with things. It was fine the way it was, without him.
"He said he knew some secret. To bring it back. You know. The memory. He called it instinct though."
I looked at her in disbelief. "Wait. You told him about your wings?"
"Yes!" she exclaimed, then looked slightly confused. "He's nice, I don't know why you don't like him."
"I didn't say that."
"I can tell."
"That's instinct."
Ashlia went on about other things Caine had said, but I drowned out the words.

********

Two days later, Ashlia informed me that she was meeting Caine at the park. It bothered me to see how different she was after all that talk with him. There was a reason I didn't like him. I just wasn't sure what it was yet. Uneasily, I asked her if she knew the way by herself, and I might have just imagined it, but her face fell slightly when she said she could.
"Um. . .well, bye." she said, jumping down from the wall by the beach. Off to see Caine.
Annoyed, I jumped down too, but on the opposite side, and started walking along the waters edge.
Why trust Caine? Why did she tell him about her wings? Why did he say he could help? What was this "secret" he had?
I scowled at the unanswered questions flitting around in my mind, when I noticed an especially colourful shard of seashell in the sand. Picking it up, I saw it wasn't much bigger than any of the others that had washed up along the shore, but the colours were bright. Purple, with specks of pink and gold. I'd never seen any shells that colour before, so I pocketed it.
I kept walking and suddenly had an idea. Hastily I walked back the way I'd came, and hurried through the streets to a jewelry store.
"Can you, er- put this on a chain for me?"
The cashier looked up, examining the shell in my outstretched hand, "Yes, bring it here."
I did as he bid, watching as he inspected it closely.
"Wait over there." he pointed to a chair in the corner.
I resisted the urge to roll my eyes, then sat down to wait. After about ten minutes, he was finished. The finished necklace was perfect. The shell looked even prettier on the silver chain.
"You have payment?"
I looked up, "No. I thought this was a free service."
He narrowed his eyes, "You must pay for the chain."
"This is all I have." I put an assortment of coins and bills on the counter.
"Fine. Now leave."
"Read my mind." I retorted.

********

I was back where I'd started that morning. The beach wall. The sun was just beginning to set when someone tapped my shoulder.
"Did you fly?" I asked flatly.
Then I heard the heavy breathing. Or was it. . . crying?
"Why are you crying?" I turned and asked.
"He lied." her voice cracked.
"Ashlia. . ."
"Don't wanna talk about it." she sat down next to me, tears flowing down her cheeks.
I sighed. It was now or never.
"I, er- have something for you."
Ashlia looked over, "What?"
I pulled the necklace from an inside pocket of my jacket. I watched her eyes widen as I handed it to her.
"It's so pretty. Th- thank you." her eyes teared again as she threw her arms around me, surprising me with a hug.
"No problem. Want me to put it on?"
She nodded, lifting up her long hair so I could fasten it around her neck. She smiled.
"You look so pretty. . ." I murmured.
"Hm?"
"N-nothing."
I was secretly glad she hadn't heard what I'd said. Or pretended not to. Either way. But another part of me wished that she had.

********

I was going to be the one to teach her how to fly again once and for all. Maybe not teach exactly, but help her to rediscover the way to fly.
At the beach wall again, as the sun was rising, we stood together on the wall.
I looked over. "I think you should push the air away with your wings. Like, rather than flapping them about like a bird, push the air downwards to propel yourself upwards."
"I like that idea."
Ashlia closed her eyes for a few seconds, and opened them again. She held her arms out and took a deep breath, then pushed down with her wings, pushing off the ground with her feet. I watched wide eyed as she beat her white wings against the air and raised almost to a foot above the wall before growing unsteady and falling back down.
"Are you okay?" I asked, hurrying over to where she'd landed in the sand.
Ashlia looked up, "Yes. I. . . I flew."
I grinned, "It was brilliant."
"You said you'd help, all along. I should've listened to you. Thank you."
"Really, it's nothing. I'm glad to have helped."
For the rest of the morning, I watched as she practiced, getting the hang of it all over again. In the afternoon, when people and cars were appearing nearby, we went back to the alley where we first met. It was dim and dusty, bu it sufficed. By the end of the day, she could fly. Of long distances we were unsure, but there would be time for that later.
Until midnight the two of us sat by the ocean, watching the sea and the starts. Nothing could match up to this.

********

After a few more days, she could fly flawlessly. I lay awake on the floor of yet another hotel room, knowing she wanted to get home. But. . .I didn't want her to go. I had the weirdest feeling, like if she left, I wouldn't be able to go on living. Like a part of me would just fly away with her. The weirder thing was I hadn't relied on anyone else for the longest time. I didn't understand what the emotion I was feeling was.
In the morning, we went to the park and then walked around town, saying nothing, just taking it all in. I think we both knew at that time that this wasn't going to last forever, this friendship and time together, so we wanted to soak it in.
That night, I felt an odd sense of finality as we sat in our favorite spot: the wall by the beach. I put my arm around her shoulders, no longer as timid as I would've been at first. I let my breath out slowly, and as she turned to face me, kissed her on the mouth. If this was my last chance to kiss Ashlia, the most perfect girl I'd ever hope to meet, I would take it.
How long we sat there kissing, I never knew or cared. It only mattered that it happened.

********

I was awoken in the middle of the night by a muffled scream. I bolted upright, sensing trouble. I flipped on the light, and sat down beside Ashlia, who was thrashing around, whimpering. Was she having I nightmare? I didn't know how I could help.
Suddenly, her eyes opened and she broke down, sobbing, tears everywhere.
"Ashlia, it's okay. I'm here." my voice cracked.
She bolted upright, face still wet, and spoke softly, but clearly, as if in a trance.
"I remember. Every one thousand years I forget. . .and come to land. . .meet people. Some deceive and some love." she locked eyes with me, " And then, my true love will teach me how to fly again. Teach me many things. In turn, I feel as though I have taught you something. But then, I must leave. Return to the sky to fly above the clouds for another one thousand years. It is a cursed existence I bear, and I don't do it lightly. I love you Gabe. I will always remember you." she took a deep, shaky breath. " I don't want to leave you, but I must. Look inside your heart and see that the truth is there, and that I know how hard it is, because it's just that hard for me, and I've gone through this before, only as a different girl. For one thousand years, I will fly as Ashlia, with my heart belonging to you, and then, I'll lose it all and become another girl to a different boy. If only we'd had more time Gabe. . .but I will always fly the skies over where you are. You could do nothing to shame me. This knowledge isn't easy. Now tell me, what do you say?"
I didn't even have to consider my answer. "I love you. Always will. Simple as that."
She grinned, and started to cry. Tears of joy and sadness. I had a few of my own as well. And we fell asleep, in each other's arms, one last moment of happiness.

********

A sunset like no other. We were alone. I embraced Ashlia for the last time. We held onto each other tight, silently agreeing we wished we never had to let go.
But I just kept thinking to myself, this is it. This is the end. But it wasn't through. After Ashlia was gone there would be a new beginning. She promised me that one last thing.
I stood gazing into her eyes. Then I kissed her with a passion I had never experienced. She said we'd found true love in each other. I could never have another love like this.
After awhile she broke away, turning to face the sea.
"Farewell Gabe. I love you."
My reply caught in my throat as she unfurled her magnificent wings, and flew away without ever looking back. If she had. . .she wouldn't have been able to force herself to go. And in that moment, I knew that I would watch the skies for her for the rest of my life.
I watched her fly away into the gathering night sky, until she disappeared from sight altogether.
That was the last time I ever saw the girl with wings.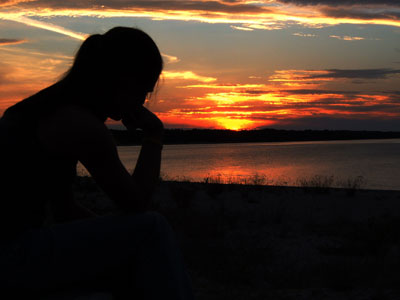 © Hilary L., Rogers City, MI