EC+WM=4never (7)
September 18, 2010
April 3, 2010
8:00 p.m.
Evalynne's Car

I wiped away the tears the flooded my eyes with the back of my hand. This was difficult to do while I was driving, but I managed not to swerve off the side of the road. I tried to blink the tears away, but they just wouldn't stop coming. It was like a never-ending waterfall of tears trickling down my face.
I glanced down at my wrist, down at the bright red marks on it, and began to feel sick all over again. Will had hurt me. He'd physically hurt me. How could he have done that to me? What the hell had gotten into him?
I knew he had a temper, but I never once thought that it would result in him physically hurting me. That was just way out of hand. And I knew that I couldn't ever let it happen again. I knew that if I did then those scratches would soon turn into bruises which would turn into gashes which would turn into broken bones. So I couldn't let this continue.
Maybe my best option was to just stay away from Will completely. The thought of it made me feel dizzy though because I couldn't imagine my life without him now. Without Will, I had nobody. So I couldn't leave him. I had to go back to him. I had to apologize so that he wouldn't be mad at me anymore.
So after taking a deep breath, I pulled into the parking lot of a gas station and turned my car around. Then I pulled back out onto the street, heading back towards the diner now. I considered what I was doing for a moment, hesitating a bit on whether or not it was the right thing to do. I was about to go back to the guy who just hurt me. Was that really the smartest thing to do?
No. I knew it wasn't. But I needed to go back to him, because I needed him to be there for me. If I just apologized to him then maybe he'd calm down and things could go back to the way they were before our argument. Maybe we could just pretend like that never even happened and just move past it. That's what good relationships were all about right? Forgive and forget, that's what we had to do.
I sucked in another breath of air before pulling into the diner's parking lot. Will's car was still there and I saw him sitting inside. He was in the driver's seat, his head resting against the steering wheel. His eyes were closed and it looked as if he was asleep. But then he lifted his head and slammed his fist down on the steering wheel. His eyes were filled with rage and frustration.
I swallowed back the lump in my throat and parked my car. I stepped out and when I shut the car door, he looked over at me. His gaze softened as he watched me walk towards him, and when I reached his car he opened the door and got out.
"Hey," I said to him, my voice sounding soft and hoarse.
"Hey," he replied. He bit his lip and eyed my wrist desolately. "I'm sorry." he told me, sounding sincere this time. "I don't know what happened. My temper just got the best of me."
"It's fine," I assured him, not entirely meaning it. "Let's just forget about it."
He looked at me thoughtfully for a moment, before finally responding. "Ok," he said. He still looked remorseful, but I didn't want him to. Why couldn't he just get over it? It had already happened. It was over and done with. We had to move on.
"Will?" I said to him.
"Yeah?" he replied.
"I love you," It was the first time I'd ever said that to him. Part of me was happy to finally tell him, because he needed to know how I felt. But the other part of me was nervous because ten seconds had passed by and he was still silent.
"I'm pretty tired. I think I'm gonna go to sleep now." he finally said. It was as if I hadn't said anything at all. He didn't even acknowledge the fact that I'd just confessed my love for him. He didn't even care. "Good night," he told me.
He leaned in and planted a soft kiss on my lips before getting back into his car. I stood there and watched as he reclined his seat back so that he could lay down in it. It felt like my heart had just been stepped on. How could he not love me back? How could he just ignore the fact that I told him I loved him?
I came back to him. He'd hurt me and I still came back to him. But he still couldn't tell me he loved me. What was it going to take for him to have the same feelings that I had for him with me?
I blinked back tears as I turned around and climbed back into my own car. I laid back in my seat, which I had also reclined back, and let my eyes flutter shut. Sleep washed over me almost instantly.

"Hey," a low voice whispered in my ear. I felt someone nudge my shoulder and I was startled awake. When I opened up my eyes I saw Will looking down at me. "Good morning," he said to me, a warm smile spreading across his lips.
"Good morning," I replied, my voice throaty from sleep.
"I brought you some breakfast." he told me. He held up a brown paper bag in one hand and a brown cardboard cup holder with two coffees in it in the other as proof.
I grabbed one of the coffees and took a sip. Two creams, two sugars, just the way I liked it. Will reached inside the paper bag and pulled out two chocolate croissants. He handed one to me and I took a bite out of it. And when I almost choked, I reclined my chair back up so that I could swallow easier.
"Thanks for this," I said to him.
"Don't mention it," he replied. As I took another swig of coffee I couldn't help but notice him staring at my wrist. The scratches were still there. They were actually pretty hard to miss. Four bright red lines. They had faded a bit overnight though, so now they were more of a pinkish color.
"I thought you agreed to just forget about it," I said.
He sighed and looked away from my arm, taking a drink of his coffee. "I'm sorry….it's just that I can't forget, Evalynne. What I did to you was awful. I had no right to get that angry at you, and I definitely had no right to scratch you. I hurt you, I physically hurt you, and you're just letting it go."
"Yes," I replied. "I am. And you should too. It's really not that big of a deal. It's just a few scratches. They'll heal."
"But it is a big deal!" he cried. His chocolate brown eyes were wide and he was beginning to get frustrated again. "It doesn't matter if it's just a few scratches. It's still a big deal. Don't you get that?"
"No, apparently I don't." I remarked, growing frustrated myself.
He shook his head, sighing deeply. "Whatever," he muttered to himself. We sat there for a little while, silently eating our breakfast, when both of our phones began to vibrate.
I felt my stomach drop, kind of the way it does when riding a roller coaster at Six Flags. I glanced over at Will, who glanced over at me, and we both sat there, frozen in a state of terror. Until finally, Will reached into his pocket and pulled out his phone. I did the same.
Turn on radio station: 89.2
I looked up at Will, who nervously reached over to turn on my car's stereo. He went to the station the anonymous text told us to and turned up the volume. Both of us listened to the radio host's voice.
"This next song was requested by an anonymous caller, and it goes out to Will and Evalynne!"
I swallowed back the bile that began to rise up in my throat and listened to the song that began to play.
"Every breath you take, every move you make, every bond you break, every step you take, I'll be watching you…"
I felt sick as the rest of the song played on. I recognized this famous song by The Police because my dad used to listen to it a lot. Now I would recognize it as the song that some creeper requested for Will and I so that we knew that he was going to be watching us. Every breath we took, he'd be watching.
By the time the song ended, I couldn't even hear the radio anymore. It was all just a blur to me. I was much too petrified to make out the song that was playing.
"Evalynne," Will began, his voice soft and frightened, "you know what this means right?" I shook my head, letting him know that I didn't. "It means that Michael's still here. It means that he's been here along. It means that he's watching our every move."
I breathed in deeply, trying to calm my uneasy stomach. I glanced out the window of my car, my eyes darting around, searching for him. But I didn't see anyone. The parking lot was still empty. Nobody was there.
"Maybe whoever it is just played that song to scare us," I said. I wanted to stay optimistic here, but even I didn't believe the words that had just come out of my mouth.
"No, Michael played that song to let us know that he's watching us." Will corrected me, his voice thick with irritation.
"We don't know that for sure though," I disputed. "Maybe Michael doesn't even have anything to do with this."
"Are we seriously going to go through this again, Evalynne?" Will exploded, turning to look at me. "Stop saying that it might not be Michael! Stop trying to stay positive! Michael is stalking us! He's freakin' stalking us, Evalynne! Stop trying to turn this into a positive situation!"
I was now pressed up against my car door. Because I was afraid of Will. His eyes were filled with a rage so wild, that I was afraid to be near him. I was afraid of what me might do. But I couldn't just leave him. I loved Will, and I hated that he was so upset. I needed to try and calm him down. I needed him to stay positive with me.
"We don't know that for sure though. Michael's probably off somewhere with Valerie, celebrating that he got away with murder. This is probably just some kid playing a stupid prank." I said to him.
The fury in his eyes was unbearable for me to look at now. I'd just made him even angrier. This wasn't good. I'd never seen him like this. He looked like was ready to kill someone. I didn't know it was humanly possible for someone to look this angry.
But he didn't yell. He just stared at me, his angry eyes narrowed at me. And then, before I knew what was happening, his fist met my cheek. The impact of the punch was so hard that it sent my head sideways, hitting the car window.
I laid there for a moment, sucking in air, wondering if that had really just happened. And when I lifted my head to look up at Will again, the pain set in. My cheek ached. It felt sore and swollen. I lifted a hand to it, but the moment my fingers came in contact with my face the pain worsened.
I looked up at Will, but his face was blurry through the tears that clouded my vision. He didn't say anything. Just sat there, looking at me. I watched through the watery film of my tears as he opened the door and climbed out of the car. I winced at the loud slam of his shutting the car door. And after a moment, when the tears had stopped coming, I grabbed my compact mirror out of my purse and looked at the dark purplish blue bruise that now marked the spot where Will had hit me.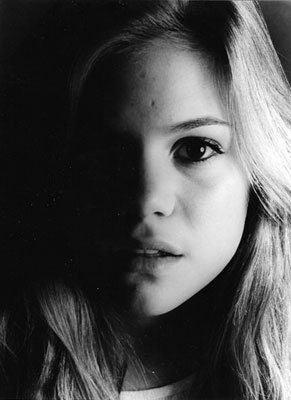 © Michelle M., Plainview, NY