Boy Friend or Boyfriend?
January 10, 2011
"Felicity, watch out!" Felicity turned around just in time to see a Frisbee flying towards her. Before she could react, a hand darted out in front of her, catching the Frisbee before it hit the bridge of her nose.
"Hey! Come on, guys, be more careful where you throw this thing," her hero, a tall, dark haired boy in a dark green t-shirt and blue jeans yelled while he threw the Frisbee back to his friends, "You could seriously hurt someone!" How is he always here when I need him?
"Thanks for the concern, Jeremy, but I don't think any of them are listening to you," Felicity said as she pointed to the group of teenagers playing with the Frisbee in the center of a large sunny field near a jungle gym full of screaming, laughing kids.
"I think you may be right. Why is it that we are the only people in our group who actually look before they throw a Frisbee? Come on; let's go over here where we're out of the danger zone." Jeremy led Felicity to a sunny patch of grass near a large oak tree just far enough away where they could still see their friends, but their friends wouldn't be able to hear them. Felicity sat down in the soft grass and kicked off her flip flops while Jeremy lay down next to her close enough that she could feel the heat from his body.
"Hey, look!" he said, pointing to the sky. "That cloud looks like a rabbit with three legs!"
"I don't know," Felicity replied, looking up at the cloud Jeremy was pointing to. "I think it looks more like a pig."
"A pig?! How do you see a pig?" I love the way he crinkles his nose when he argues. And it's not just his nose; his whole face kind of crinkles, even the splash of freckles on his cheeks.
"How can you not see it? Look, there's the nose, and over there is the curly tail."
"Are you sure that's a nose? I think it looks more like another leg."
"It could be, but I'm pretty sure it's a nose," Felicity argued as she lay down next to Jeremy so she could see the sky better. I'm glad I decided to wear shorts today and not a dress. It would not be very easy to cloud-watch comfortably in a dress. "It's such a pretty day out here. I don't think I've ever seen the sky so clear and beautiful."
Shaking a strand of his curly, dark hair out of his face, Jeremy raised his upper body and rested his cheek on his fist. "You know, the sky isn't the only beautiful thing today." I wonder how many times he's used that line before. Does he think it will actually work? Slowly, he leaned over Felicity and brushed a strand of her golden hair out of her face. Pausing for a moment, he held her face in his hands and stared into her pale blue eyes. I never realized how pretty his eyes are. It's like they give a whole new meaning to the color brown. Hmm…maybe that line works better than I thought it would. She closed her eyes as she felt his lips softy brush against hers. Slowly, almost as if he regretted it, he pulled away. Wait, why was he pulling away? Does he think I'm a bad kisser, or does he not like me? He can't stop now. I've been waiting for this for so long.
"Wow," she whispered. Did he really just do that? Or am I dreaming? I think he finally did it. After spending nearly all four years of high school flirting back and forth, he finally kissed her.
"Wow," he replied with his brown eyes sparkling and a slight smile playing across his lips. Have his eyes always sparkled like that? Or is that just the sun playing a trick on me? "Umm…so…yeah…do you want to go back and hang out with everyone else?"
"Yeah, let's go," she replied as she got up to race him back to their friends. She began to run, but before she could get too far Felicity felt Jeremy's warm, strong hand slide into her cold one. Does this mean he wants to be more than just friends? I guess I'll ask him…later. I don't want to ruin this moment.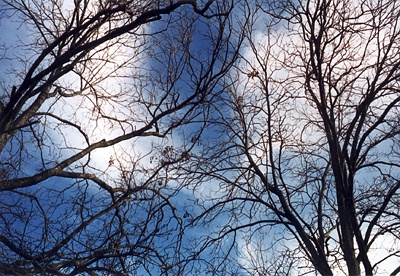 © Sarah L., Glendale, AZ