Meeting My Love
January 25, 2011
I fixed my makeup as I did every morning, carefully concealing any pimples, lines, or red blotches; adding light to my eyes with black liner; adding color to my lips with Scarlet Red lipstick. I straightened my hair, leaving every curl behind.

I got dressed in my black uniform skirt, white uniform polo, grey leggings and red cardigan. I slipped on my caramel colored boots, and grabbed my bag.

I caught a glimpse of myself in a car window. I was not thrilled with what I saw, glaring back at me.

When I hopped on a bus, the riders glanced at me, and then checked me out, head to toe. Some smirked; they did not like my outfit. Some shrugged; who were they to judge? And some just smiled, approving.

When I walked through the school yard, most of the male population just winked or smiled, in a way that I found mocking. The girls simply smiled in a way that I found rude; they adored proving that they were the elite. Their parents were rich beyond belief, led jobs that most would die for, and were considered the socialites of New York City.

However, I could not care a less what the girls thought, or what those on the bus from Harlem thought, or what anybody though. There was only one person's opinion who mattered. His name was Jonah.

His parents were socialites, and he had more money that all of the celebrities in Hollywood combined. Okay, probably not that much, but you easily see the point.

Anyhow, he was gorgeous. Basketball player with nice hair, large, brown eyes, the nicest complexion. He was also built, due to the excessive practice he did. He was the only one who I cared to have judgement from; if he possibly judged an outfit of mine, it meant that he at least looked at me for a considerable length of time.

But of course, he did not even know that I was alive.

Which is why I was completely and utterly shocked to see him smiling at me one day in the lunchroom. He was sipping on Vitamin Water, as was I. We were on complete opposite ends of the room, yet we could see each other perfectly. He stood up, tall, and walked smoothly to the garbage bin, throwing out his empty bottle. Before turning to return to his table, he winked and smiled at me.

I smiled back tightly, gasping for breath. My heart could not stop thumping; I felt faint. As he was walking back to his table, he whirled around and joined me at my empty one, sitting across from me.

"I couldn't help but notice you sitting here, alone." he said softly, his lips pulling into a smile.

"Well, um, see, um-"

He chuckled quietly, making me quiet. His chuckle was musical, beautiful. Almost like a song.

"I'm Jonah." He said, grabbing my hand and shaking it. Electric sparks flew through my hand.

"I-I'm Eva." I replied quietly.

On that day, I knew that I would at least be capable to smile at Jonah in the halls when we passed without feeling like an idiot. I knew that I would possibly have more conversations with him. And I knew that I was no longer a spec of dust to him; he acknowledged my existence.

What I did not know was that this small conversation would be the beginning of the best romance of my life.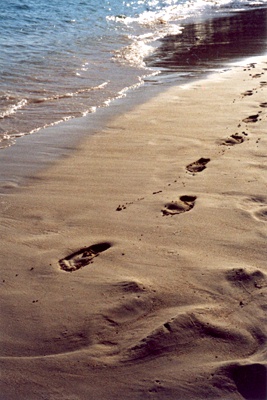 © Ashley B., Potomac, MD