Transition
April 25, 2011
"I can't. I have to baby sit my cousin " I lied blatantly on the phone to my boyfriend. I loved him. A lot more than anyone would. It wasn't even fading. It was just that I lost the complete inclination towards meeting him. We have been dating for nearly 4 years. We had had a lot of ups and downs, a lot of hurdles. The primary one was that the last two years had been a long distance relationship. We took up different colleges. They're in the same city, but they're 30 miles apart. Now that wouldn't be too far off for me if it wasn't for my parents. You see, they don't approve of relationships in teenage years. If they even caught a wind that I am into one, they would confiscate my cell phone, trace my calls, drop me and pick me up from college, access my facebook and e-mail accounts.
On the other hand, his parents know me and even like me. His mom often calls me up asking me to keep track of his studies. I laugh silently to myself as I concede to her wishes. She has no idea of how he reacts when the issue comes up casually. He shrugs it away saying "Why are you spoiling my mood now? Can't we talk about good things?" Good things? All I'm asking is how are things going on with you damn it! Is that something forbidden? Before you all get the wrong impression, I don't want him to be a geek. All I want him to do is get a decent score. More than that, this guy never speaks. It's always me asking questions and him giving curt replies. Its always a yes or a no. Its not that he hates talking to me. It's just the way he deals with things which is not pleasing to the other side.
Tonight, he texts me to call him up (he never calls). I'm glad he's at least thought of me and I do call instantly. He says "Hey I can't text you tomorrow?" amidst a lot of hubbub. I can barely hear so I shout "What ? What is that noise?" He says "Oh that? Its just her". A silence on my side. He continues "She came home. Actually she wants my phone. So I'll be giving it to her for tomorrow so don't expect me to text you, ok?" My blood boils. Venom seeps through my voice as I say "Why her? You're letting her use you. I thought we were clear about the fact that you wouldn't interact with her much as long as you can avoid it?"
It so happens that this ' her' I'm talking about tried to seduce him more than a million times. She happened to call him home on the account of returning his notes (which she actually flicked from his bag while he was away) and paraded in a towel. Now, my guy is a decent chap so, he hung his head down, excused himself and waited outside her house. Since then both of us decided that it was best he stay away from her. But he didn't. He even let he abuse me and throw a challenge at me saying she would steal him away from me in three days. Now that was highly ridiculous but I agreed just to satiate my ego.
I won, of course! The issue was that he was still interacting with her. I knew that she was deliberately taking his phone. She had a million people she could ask. And this stupid guy was giving away his phone to her so she could talk to her friends while we dint speak for a day. I couldn't understand the foolhardiness. I said to him "You are not giving her the phone. Ask her to get out this instant." He cried in disbelief "Don't be lame. She needs it." It p***ed me off. I was so furious that I cut the call and switched off my phone. I resolved not to use it for the rest of the day and the next. I did sneak peek a bit to check for his messages. Probably some sign of apology? All I got were the regular 'goodnight I love you' and 'good morning'.
I resisted my temptation till the evening the next day and then I texted him "Hey, I shut my phone off. You weren't using it anyways so there was no point keeping it on. So how's it going?" He probably didn't even know that my phone was switched off till I told him myself but he got all flared up. He said his mood was off because of me. I wondered why. He said it was because I shut my phone. Now, he sends me two smses in a day. One is a good morning and another is a good night. What difference would it make to him? I call him up 10 times a day and nine times he cuts my calls. The tenth time he takes it and says "Hey I'm out with my friends. I'll text you when I'm home".
I really don't understand guys. They spend most of their time with their friends. When do they give their love-life some time? Anyways, I took it easy, however irrational his anger was. Something had changed though. All I could think even while I talked to him casually was "He's allowed to switch off his phone to give it to some lousy fan of his? And I'm not allowed to switch off my phone if I'm angry? Where is the justice?" That night as we were talking I realized. Love doesn't fade. It stays. It always does. All that changes is your tolerance, your psyche and your patience. Well lucky me, I have a lot of patience in me. Or these up and downs in life would drive me crazy. But the only reason I'm giving things a try is because I know that things will get better. Or I at least hope.
He asks me the next night "Want to come over to my place? We'll watch a movie. If not, tell me so I can plan with my friends". I reply almost instantly "I'm sorry. I can't. I have to baby sit my cousin". And for a change, I don't feel guilty for lying. I guess it's okay to not want to hang out with your loved ones sometimes. Not a federal crime.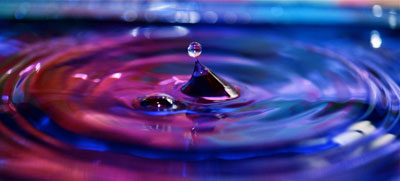 © Haley L., Anchorage, AK