On the Other Side of Perfect
June 5, 2011
May 20th

As the majority of the Ashville Academy for Exceptional Students - The Academy, for short - student body population danced to music from Mozart and Bach to more modern tunes, such as: The Black Eyed Peas and Lady Gaga...mingled...and drank from diamond encrusted wine glasses...Annabelle Crawford, the lowly scholarship student, spent half of her night watching a Star Wars marathon and the other half serving tables at the local diner. Long story, short: no one dared asked her to the formal due to her status and even if someone did do so, where is going to get the money to buy the one-hundred dollar ticket - let alone, the dress and whatever else came with it? Psh, she'd have to rob a bank to attend. Because while she went to the wealthiest school in the nation, she's not a Wallet. She didn't come from a privileged family...didn't live in luxury..and had no one to turn to nor trust but her older brother. But even he's not around, although unlike her parents who simply chose to leave, Jonathan is currently in Iraq working as a sniper for the U.S. Army. Even so, though far away, he never forgets once to send his little sister a letter or two every month to check up on how she's doing on her own. He cares. However, Annabelle still has no one - especially since she goes to Ashville; in which you're only important if you have both the money and the background to prove so. And it is not likely that a fairy godmother will suddenly appear to console the young girl in despair - because this isn't a fairytale. It's real life. And in Anna's world, this is just how things go.

So, as she took orders from an old couple at table six, she thought of nothing but traipsing into the ballroom at the Chaffee Hotel dressed in the most gorgeous silk gown she's ever dreamt of - preferably sky blue, and she imagined her fellow classmates turn in her direction as she descended down the marble staircase in awe, probably wondering who she was. But that's just it - nothing more than a dream that will never be granted...and realizing so, she simply shook the thought away and smiled at her customers. "Would you care for a dessert? The new special just came out: Ube Delight."

"No, thanks, dear. But maybe later," the old man replied as he took his wife's hand and stared at her with loving eyes. The type that really says 'I Love You' without the words having to come out of the person's mouth. The one that she always thought of receiving from the guy who stole her heart and brought her happiness from inside out - even if he didn't know she existed. Liam Carter. The only thing about that little wish is the fact that the guy of her dreams is also the heir of Carter Communications and son of the ever-so intimidating, Dean Catherine Carter nee McLaren. Do you see the problem here? It's that stupid rule that seems to fill every mind of each student at Ashville – the unsaid law that divides the world of the privileged and the world of Norms, the "less fortunate". So, the thought of ever being in the arms of the seemingly perfect Liam is zero to none…

In an attempt to forget about her emotional suffering, Annabelle joined her co-workers behind the counter, hoping to be submerged into the gossip and laughter of her friends. Key words: trying to not let her countless thoughts bother her. No matter how much it does.

"…man, the roller derby was awesome as hell!" Jennifer, the 20 year-old attending the community college a few towns away, chirped in her usual cheery tone while Jessica – her twin sister – added: "Yeah, Bruiser was on fire. She knocked out Mia Psycho and they almost got into a rumble."

Annabelle smiled, adding her own 'two-bit' about the Atlanta Cherry Bombs before spacing off into yet another daydream; this one, of her mingling with her classmates and running off to the bathroom with two or three other girls to gossip about who made who cry, laughing in unison as they try to reapply their smearing makeup. Then, as she returned to the Grand Room, Liam grabs her arm; pulling her into a tight squeeze; and the girls walking off in giggles…

In the real world, her co-workers quieted down one-by-one and stared at their friend with sympathetic and understanding smiles, knowing exactly what's going on in the young girl's mind. Knowing exactly what she's thinking about and how much they wished they could help, but instead, they left her sitting at the worn stool; allowing her to fantasize. It wasn't until around midnight did they dare interrupt her imagination. It wasn't until around midnight did the group of giggling waitresses and chattering customers were silenced, unable to speak as the bell above the wooden door jingled and in came a rather handsome young man who seems to be out of place in his shiny Ralph Lauren shoes, tailed tuxedo, and golden cuffs.

It wasn't until then did a young girl's fantasy become her reality…

…snapped out of her thoughts, Annabelle's gaze landed on the young man, her eyes glazed in amazement as she received that familiar smile and stood from where she sat. Because coming towards her with a bouquet of pink carnations – her favorite – is the last person she thought of seeing but the one she could never stop thinking about.

"I've been searching for you all night," he said in a gentle tone as if afraid that his words can break her in a second.

Amazed, she fingered the petals before staring into his eyes, reluctant, "Why now?"

"Why not?" was Liam's reply.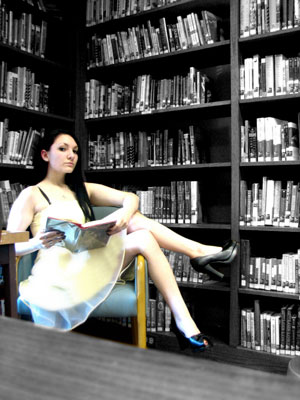 © Jessica F., Bradford, MA