Come. Part two Paul
July 5, 2011
"Dude what your doing to your wife is heartless." That's the third time this week I've been told that. Sitting in the bar, hanging with the guys. With a shot of whiskey in my right hand, a little black box in my left. "You don't understand"

That's my excuse, but the truth is I don't understand. I don't understand why I leave her alone at night. I don't understand why right after dinner I just have to leave. It's not that she's uncaring, she's an angel; and it's not that she's not beautiful; she's the most gorgeous thing I've ever seen. There is nothing wrong with the house, it's spectacular; and the neighborhood is great too. It's just that I can't stand to be there. Every day I put in overtime at work and don't come home till 8. Then after dinner I'm out of the house by 9 and not back till midnight. By that time she's tucked in bed and all the lights in the house are off.

"So then why are you doing this?"

It started after she took care of her sister's baby for a week. That entire time she was so happy, it was rippling off her body in waves. But then her sister came and took her baby back. After that you could feel the emptiness, the darkness left where the child had been. Things went back to normal, but you could tell Lily missed her. The thick smog of her sorrow drove me away. It's been 4 months since then and the routine still stands.

"So what are you going to do about it?"
I sigh and look at the clock; it's only 9:30. Setting the empty glass down and placing the box in my pocket; I hand the bar tender the money and push back my chair. "Bye Bill, Craig, Joey" "Bye Paul be safe"

I've thought a thousand time what I can do to make her happy. Having a baby would be the easiest solution but I honestly don't think we're ready. Maybe a puppy or some kind of pet or maybe babysitting Emma's child once a month would be better. I'm really not sure what to do.

I look at the dark house before me and wish we could make it right. Hopefully we will.

I love her too much to let her go.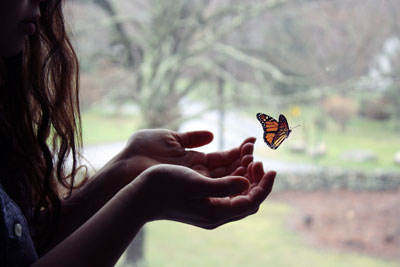 © Sandy H., Woodbridge, CT