Broken Bliss Chapter 4: I LOVE YOU
July 3, 2011
CHAPTER 4:I LOVE YOU

When I got upstairs, I ran to my bedroom. I cried for almost an hour. When I got up from the bathroom floor and looked in the mirror, when I saw my face it made me want to cry some more because it was such a mess. My mascara had run, my lipstick was smeared, my eyes were puffy and red beyond comprehension, and my nose was raw from all the blowing. I washed my face until it was numb. After I finished taking a shower I got dressed and blew dry my hair. When I finished I ran downstairs and got a carton of ice cream from the kitchen and went to my bed to watch My Best Friend's Girl on my TiVo and drown my sorrows. By the time I'd scraped down the carton and laughed throughout the movie I went to sleep.
At 3' o clock in the morning I heard rocks banging against my balcony door. I reluctantly climbed out of bed and headed for the balcony. When I looked down from the balcony I saw Joey standing on the patio outside the living room with black duffel in his hand. I whispered "Joey it's three in the morning what are you doing here?" He put a finger to his lips and mouthed, " Move back". I obeyed and the duffel Joey held landed at my feet. I looked down once again and saw Joey climbing the rose awning. When he reached my balcony I helped him up. Once we were inside my bedroom I crossed my arms and sat down on my bed before saying " Joey it's not that I don't enjoy your company because I do but what are you doing here?" Joey knelt down in front of me and said, "I know how upset you were earlier and I thought I should bring you something to cheer you up". He stood up and handed me the duffel and I looked up at him confused and said" A duffel?" He smiled and shook his head before leaning down and opening the duffel and saying "No, what's inside the duffel", he took out a beautiful purple motorcycle helmet with Jillian written in silver on the side in script. I smiled with delight and threw my arms around his neck I whispered in his ear as he put his arms around my waist "It's so beautiful Joey I love it thank you so much". I pulled away gently and cupped his face so I could kiss him but he put a finger to my lips and said, "Wait there's more". He told me to close my eyes and hold out my hands, I obeyed and I felt soft straw material on my palms. Joey kissed my lips briefly before saying "Open". When I opened my eyes I saw in my hands a small purple basket with dark purple tissue paper. I saw a small banner that read "Love At First Sight", a card that said I LOVE U JILLY, my favorite lip gloss (clear coconut), the DVD of my favorite movie (My Best Friend's Girl), a small box of Godiva coconut chocolates, and a framed picture of us at the beach- the frame was silver and at the top in small cubic zirconia's were the words "I LOVE YOU". I couldn't speak and I could barely breath! He loved me! I couldn't believe it. I'd only known him for a few weeks and in that time I'd developed such a perfect relationship with someone I loved so much. When I finally tried to speak I managed to say I twice before passing out.
I remember waking up at 9:00 a.m. Sunday morning the Fourth of July. I turned on my side and saw Joey lying there in his boxers sound asleep. I touched the side of his face and he opened his eyes slowly and smiled before saying, "Good morning love". I smiled and said "Good morning" before leaning over to kiss him. When we broke apart I sat up and craned my neck to look at the clock it read 9:15. " Ok please explain what happened last night," I said getting out of bed and putting my robe on. Joey sat up and looked over at me as I brushed my hair in the mirror and said "Well after you passed I figured it was from shock and put you in bed and decided to be with you to explain what happened." I nodded as I swept my hair into a loose ponytail. As I walked to the bathroom to brush my teeth and wash my face Joey followed and leaned on the frame of the door "Jill", he said "Do you remember last night when I gave you the cheer up Jilly presents" I smiled to myself as I brushed my teeth and nodded. "Well I was wondering" he began as I thought to myself uh-oh this is where he says, "Do you love me too?" I spit out the water and looked at him in surprise. That wasn't what I thought he was going to say at all I thought he was going to say that it was just a metaphor Well thank God I was hoping he would say that! I walked toward Joey and said " Joey… Yes I Love you" He smiled widely and kissed me. I jumped up as the kissing became more intense and wrapped my arms around his neck as he brought me over to my bed and lay me down gently. As he started to kiss my neck hungrily and his hand started traveling up my shirt I jerked up quickly and said "My mom". I started making my bed as Joey traveled to my couch in confusion to get dressed. As he buckled his pants he said "What about your mum?" I ran over to the mirror and began to run my comb through my hair in a rush as I explained to him " Every Sunday my mom gets up early to run errands but before she leaves she comes in to check on me at 9:30 which is" I glanced at the clock it read 9:27 "In less than 3 minutes", I spun around towards Joey who was buttoning his shirt and said "You have to hide". I pulled him towards the bathroom and told him to stand in there and not make a sound as my mom walked through the door. I walked out of the bathroom and walked out to kiss my mom good morning. " Good morning baby" my mom began " Glad to see your up and awfully chipper, anyway I wanted to let you know I was going to go to the salon to get my hair done and a mani-pedi, the bank, grocery shopping for tonight's barbeque and then to the airport to pick up your father". I nodded and listened diligently. " I need you to call all the guests for the party tonight and let them know the party's still on and confirm they're coming and then start preparing for the party I'll leave the groceries and decorations on the counter for you. I hope Joseph doesn't mind helping your father prepare tonight's dinner. He was talking to me earlier this morning and you father felt it would be a wonderful way for them to bond. Anyway talk to him about it. Feel free to invite Joseph's parents and brother if he's home." As she started to leave she turned around and said " Your dress is in the closet along with the accessories and you can put that on when you get back from brunch with Joseph and his parents. Tell Jackie and Sam I'll see them later and that I love them. I love you, be polite, behave and I'll see you later." Finally she left, and then opened the door again and said "Oh and before I forget Goodbye Joseph" she yelled at the bathroom. Joey peeked out from the bathroom looking sheepish and said "Goodbye ma'am". With that finally my mom left. I fell down onto my bed and groaned. Joey walked over top my bed and leaned over me saying, "What'd I do?" I laughed and kissed him.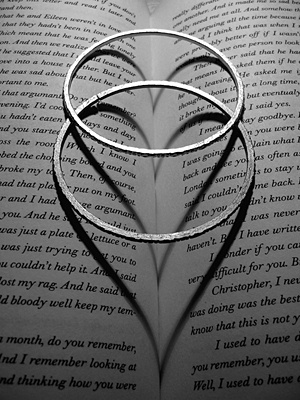 © Julia K., Old Tappan, NJ