Seashell Sorrows
July 15, 2011
I walked along the beach, my feet leaving shallow indents in the firm, wet sand. My ears filled with the lapping of the waves against the shore and with the squeals of the seagulls circling overhead. My nostrils filled with the salty air coming off the surface of the delicate waves. I looked around, and I was alone. Although it way summer, there was a slight chill in the wind as it blew, ruffling my hair and blowing it in patterns against my neck. I was completely alone, except for the cries of the seabirds as they danced about the water's edge. I watched as the waves rolled in, leaving behind a series of broken seashells as a reminder of its presence. And I was reminded, with grief about the summer you and I walked along this very beach, our fingers intertwined.

All the memories came flooding back to my mind, like the waves on the shore.

You and I walk together on a perfect sunset night like this, hand-in-hand. You sing to me a love song, your voice running through awkward pitches as you try to adjust it to our song. Though I laugh, I truly don't mind, for you're singing to me, and I'm sure it comes from your heart. I paused to look at the pink-orange sunset across the sea. You walk behind me and hug my waist, whispering in my ear how much you love me.

And it was true. I could tell. Not the normal 'I love you' everyone says but doesn't mean. No, this 'I love you' is real, and it means the world to me. We stand there until the last rays of light are only a reflection on the calm, glassy ocean. The world is at peace, and standing here in your arms, I feel safe. Like I'm home. And I know in my heart, that this is where I want to be forever.

Low tide is coming in, so we are able to sit by the water's edge with only our toes submerged. The wind blows my hair back, a silk ribbon of chesnut and you kiss my bare neck. I smile to myself as you kiss me, and I whisper the words 'I love you'. And I can tell that you can tell that I mean it.

I turn my head and look into your eyes. You stare right back at me and we don't say a word. After all, who would want to ruin this beautiful moment?

As I look into your eyes, I feel as if I can see all the way into your heart. This was easily the best day of my life. You drive me home and kiss my lips lightly before leaving. Little did I know that that was the last kiss we would ever share. The last hug, the last look, the last touch. The last time I would ever see you.

The last time anyone would ever see you.

So as I walk across this beach, silent in my thoughts of you, the waves roll in again and I see the broken bits of seashells. Only this time they're not broken bits of seashells; they're broken bits of my heart. And they're not a reminder of the waves, but a reminder of our times together. I will come to you when my time here is done. Don't give up on me. Remember who you are and I will come for you.

I love you.

Love me.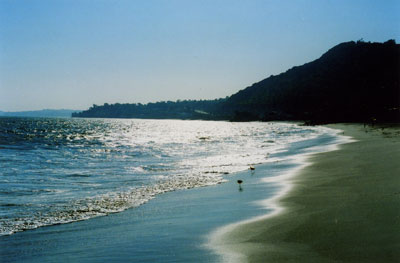 © Adam L., Washington, DC