Invisible
July 16, 2011
I stand alone on the curb outside my house with my hood down. It's pouring out, but I couldn't deal with my parents any longer. At least not tonight. I shifted my overnight bag to my right shoulder and started walking through the downpour, down the street and around the corner. Where was I going? Don't ask me that. I don't know the answer. My anger would not subside at first, but as I continued around the bend, I began to feel all my troubles and worries wash away with the rain. I stop in front of a big puddle and look at my reflection, illuminated by the street lights. My hair looks like the fur of a drowned tabby cat, my auburn curls tamed by the rain. They're more more of a wave now. My baby blue eyes are frightened and framed by red rims. My nose and cheeks are blotchy red from crying and I feel yet another tear slide silently down my face and off the tip of my chin. I look up and that's when I see him. The boy from school. They boy no one liked. They boy who was invisible to everyone- even the teachers. Except for me. I don't talk to him much, but enough to know he's the perfect guy. But people are cruel. They don't accept people that are different from themselves. Maybe that's why they don't like me. Maybe that's why I am this only boy's friend and he's mine. HE looks up from his feet and his piercing eyes focus on me. He smiles and pushed himself up from the curb, walking over to me. When he reaches me, I am completely and utterly tongue-tied. He stands about four inches taller than me and his green eyes are both firm and gentle. His brown hair is messed up from the rain, but I can't help thinking about how cute it looks like that. He stops about a foot away from me and smiles, his teeth flashing bright white against his tanned skin. When I didn't return the smile, he frowned and took two steps forward, reaching out for me. I didn't pull away as he lightly touched my waist with his fingertips. He frowned again.

"What can I do to make you smile?" he asks. I fight back another sob as I shrug my shoulders and shake my head. I don't trust my voice. Seeing what was wrong, he opens his arms to me. I've never experienced the warmth of his touch before, but before I realize it, I'm in his arms crying into his shoulder. And he's holding me tightly, whispering comforting words to me and kissing the top of my head lightly. My mind doesn't have much time to register what he's doing before the butterflies are set loose in my stomach. With hands soft as feathers, he strokes my hair and I bury my face even deeper into his chest, searching for the warmth I know lies in there somewhere. Suddenly and unexpectedly, he pulls back and holds my face in both his hands, staring intently into my eyes. I look at him with lost eyes and then his lips are soft and gentle, but urgent of mine, almost as if he has a need to make me happy again. Almost as if he's racing against time. He pulls back, but I find myself moving forward and catching his lips on mine once more. I can tell he's surprised, but it doesn't stop him from kissing me back.

His lips are warm and the feel of his hands on my bare neck is electrifying. A spark flickers inside my stomach and even though he hasn't given any sign of it, I can tell a spark was ignited in him as well.

All the anger and sadness lingering in my muscles melt away at his touch. And then it registers-finally- in my mind that I have just gotten my first kiss. fourteen and it's wonderful and glorious and beautiful and so much more than I ever would have expected it to be. Who would have thought that someone as young as I would be able to feel so much?

And suddenly, he's not the boy from school anymore. He's not the boy nobody liked. And he's certainly not the boy who was invisible.

He's MY boy from school. He's the boy that I like-maybe even love. And he's the boy that was standing right in front of me, the boy who just gave me my first kiss in the pouring rain- the boy who was CLEARLY visible.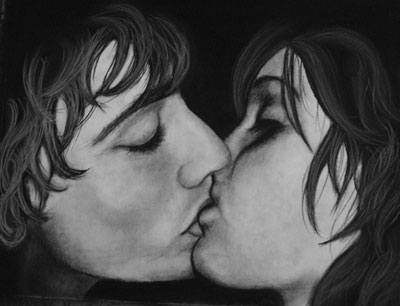 © Anna Y., St. Robert, MO