The Confession
July 17, 2011
"I like you." With those three words, my cheeks burned in embarrassment and I thought: Would he accept it? Would I get rejected? Rejected by probably the most popular guy in school - how humiliating would that be? I mean, Ethan is...well, Ethan. He's more interested in his art work than he is in girls. Not like that stops us from completely falling head over heels for him. Seriously, I'm not even exaggerating; the guy's a total dream. The type that every girl wants and would most likely kill each other for. No joke. So, me confessing to Mr. Dream over here? Well, there's one in a million (and probably no chance) but grandma always said that if you like someone you should say it rather than burying your feelings deep within - like that's a sin or something...which it's not! But anyways, that's how I ended up in the English Annex with blushing cheeks, my head bowed and my arms extended out with a card in it. A love letter, to be exact. And guess what? Ethan is standing right in front of me.

I sneaked a peek at him, my ears turning a shade of red. No expression. He simply stared at me, then at the blue envelope in my trembling hands. Oh gosh, what should I do? But before I could think - think of a way to somehow win his heart...a way to make him accept the card which I spent all night writing..., he was already walking away. I slowly lifted my head just in time to see his ever so cool figure calmly walking towards the elevator and even farther away from the frozen statue I've become. My heart beated faster and faster, water beginning to fill my eyes although I'm trying my hardest to hold them back; afraid that the sight of me bawling would just turn him off, afraid to show my weak side. I told myself, that I knew it was coming. That I never had a chance anyway. That there's reason to cry over one guy. That there are many others to choose from. However, just as the elevator door was closing, he caught my eye - his face still bares any expression...any feeling of guilt or regret; I fell to the side, clutching the envelope in my hands, allowing myself to shed one teardrop.

What an idiot, I thought, a real idiot.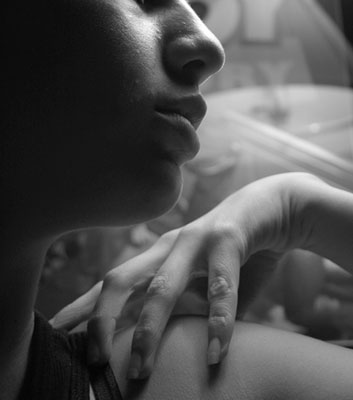 © Rebecca B., Santa Clara, CA