Quickie.
August 27, 2011
I am an awful person. The feeling starts to come over me now, just as it usually does just after we finish. This isn't love. This isn't a causal relationship. We don't meet to have friendly conversation. We meet to do what we both agreed was no strings attached relationship; if this was even a relationship. As I lay here now, I thought about a lot of things. I thought about how many other people like me and Demitri had done the things we had in this bed in the dingy motel we were forced to meet in so his girlfriend wouldn't find out. His girlfriend. His wonderful girlfriend. She had barely walked away when he first approached me with his deal. I remember the conversation clearly.

"Jamie!" he called out after me. His girlfriend didn't even turn around to look, and she was only a few metres away.

I stopped and watched him jog up to me. "Hey," I said

"Uhhhm," he started to glance around now, checking if anyone was listening. I leaned against the Roman pillar behind me and watched the throng of students pass by as I waited for him to speak. He was taking too long, so I spoke.

"Spit it out. No BS. What do you want? I can take it," I said dryly.

He sighed. "Fine. I like you. But I'm not leaving her. I want sex. Just that. Just a quickie,"

I looked at him and cocked my head to the side, my black ponytail swishing. "Where?"

He seemed shocked at how easily I agreed. Demitri etched the address of a sleazy motel I knew off the highway, and told me to meet him there at eight.


I snapped back to reality. Something as simple as that led to this, I thought to myself. Ever since then this had become our meeting place. It wasn't just one meaningless quickie anymore; it was a meaningless affair. He stirred in his sleep, and I still couldn't believe what I had been doing for almost six months now. I thought about his girlfriend, Sarah. Sarah Gianni-Louvre. She had her mother and her father's last names. She had strawberry blonde hair. She was 5 foot two, just like me. She was a virgin, unlike me. I knew all this about Sarah Gianni-Louvre, because my name is Jamie Gianni-Louvre, and Sarah is my sister. And I'm in a bed in a cheap motel, sleeping with her boyfriend. It was strange how as soon as I started thinking about her, Demitri woke up, wanting what we had come here to do for so long. Judge me if you want. I hope you do. Because honestly I don't know why I'm doing this. Demitri tugged my hand, and I knew what he wanted. I gave my sister's boyfriend exactly what he wanted. He didn't want to be loved. He just wanted a quickie. And I gave him just that. No bite marks, no scratches, and no hickeys.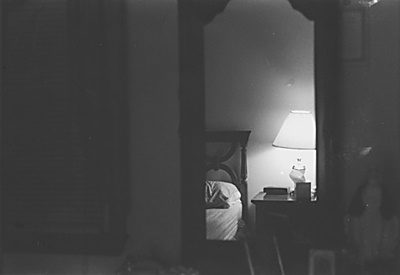 © Photo by Stefanie G., Norwalk, CT