Let the rain wash down the pain
September 3, 2011
My best friend ran away from prison on a dark Friday night, the police where after her since then and that was when my life had officially ended. Before you ever decide to have a best friend just think of all the commitments you have to stick to, or better say, they will MAKE you stick to.
I had to take responsibility after her stupid mistake and , in addition to that, had to invite her to my own house, make sure she'd been fed and properly rested. She became like an extra pain that I didn't need in my life. Every time I wanted to kick her out of my house because of her demanding needs, she'd stop me and say: "we are best friends remember?" I can't believe that I had to keep up with all this.

One Sunday evening, we went to the mall to chill a bit. After tremendous amount of shopping we headed to the restaurants section to grab some food. As we sat there and started chatting about everything from here and there I lifted my head up and saw the young police man that was assigned by his father to get her back to jail. I knew that because I had talked to him a couple times before.

I started to freak out, my heart was pounding so hard against my chest and I had suddenly no idea what to do next. I pulled my self out of the chair and caught up with him before he'd come to our table. I greeted him and started acting all nice and smiley which he found unusual because he pointed that to me straight away.

"So who is that guy you're sitting with?" he said. He was pointing by then at my best friend because she was dressed as a boy so no body would recognize her. I had felt it coming, all sorts of solutions came rushing to my mind but I was unable to choose which one to use. I began to REALLY freak out. I wanted to shout to her to runaway but he would hear that of course. He said next: "I really want to meet the miracle maker who made you smile" and he cracked a smile. He left me behind him and started heading to our table. But what I did next was truly insane.

I held his hand and dragged him away, really away, far from all this mess. I pushed him against the corner and took a deep breath then I brushed my lips so urgently against his. He was first stunted then slowly started kissing me back. I circled my arms around his soft neck and he in turn circled his behind my back. I don't know how long it was, but it sure felt like hours. Suddenly the guilt started filling my heart so bad, that's when I had to end it. Not because I wanted to, but because I felt like I was using him to cover up for her. He smiled sheepishly at me and I leaned back and mattered so fast: "I…am…sorr-"he placed his finger against my lips and said almost in a whisper: "I'm not"
I really had to smile at that, because he was so sweet to me and I was the stupid b**** who used him this way. I backed away from him and ran out of the building not even bothering to wait for her. I just did. I left my umbrella and my coat and everything else back in there but I didn't care. Was she really worth what I did to him? The worst thing about all this wasn't anything but how the kiss felt on my virgin lips, and it felt really good. Like REALLY good.


I'm not that type of girl, who would cry her eyes out for anything, but right then my whole life flashed in front my eyes and suddenly my eyes started watering under the rain. It was almost like in a movie. I kept running and running, trying to try that song I heard someday: "let the rain wash down the pain" but as I raced to the next street I felt nothing but worse. No pain washed nor a scar healed. Everything was just the way I left it. I kept running as a car was heading towards me, I thought I would reach before it hits me but then I heard: "Reemy!" I stopped and turned around. The next moment I was lying on the ground with flash lights blinding my eyes.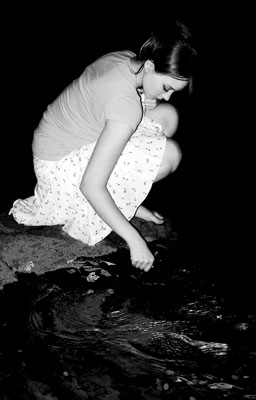 © Michelle B., Blairsville, GA