Relationships Make You Fat
November 12, 2011
You used to tell me I was beautiful every day and I believed you for those entire seven months every time you said it. I could eat an entire pint of ice cream and feel good about myself because I knew you'd love me anyways. You'd tell me my eyes were gorgeous or that I was a great kisser or that I was the thinnest girl you'd ever dated and I had a perfect body. You always made me feel great about myself that way.

However, deep down, there was that part of me whispering, "He's only had two other girlfriends before you" or "The other girls he's dated are just fat" or "He only likes your body because of your boobs". Those were all true, but when we were together, I preferred to repress those thoughts. I focused more on wearing eyeliner so it brought out my eyes or reapplying lip balm every two minutes so my lips would stay at the perfect level of moisture when you kissed them or wearing a push-up bra and a low cut top so you could look down my shirt at my cleavage and think, "Damn, I'm lucky to have such a hot girlfriend".

Then, I'd go home and eat, alone. I'd never eat much in front of you for fear you'd think I was fat. When I had dinner with your parents, I ate a tiny little serving, partially because your mother's food wasn't as great as you said it was, and partially because I wanted to look delicate and girly and skinny. But now, looking back, I can see that I wasn't fooling anyone as my muffin top must have been settled comfortably on top of my skinny jeans.

When it got to be about six months into our relationship, I let you have dinner with my family, and we all ate a lot. I made cannolis for it and I remember the first one was so good, I wanted another one. I contemplated aloud whether or not to have two, but when I saw that no one else wanted another one, I suddenly became all embarrassed and the only thing I would eat in front of you after that was Wheat Thins. I tried to look healthy, but little did you know, after I closed the door and you left, I'd eat a good three or four cookies and go sit and watch TV for an hour.

When you left, I stopped eating meals regularly. I'd wake up at three in the afternoon and go grab a bagel or eat bacon at one of my friends' houses. Then, I'd eat dinner with my family, then either eat nothing but ice for the rest of the night or eat whatever sweets were lying around the kitchen.

Then, when school began, I decided I needed to diet. I began eating super healthy, Vegetables, fruits, protein…the only chocolate I consumed for a good month was in a Weight Watchers ice cream sandwich or a Fiber One bar. I lost five pounds in a week, but as my schedule became more and more crazy, my diet became less and less of a priority.

You know what though? I kissed a boy the other day. It was a stage kiss. It was a boy I don't even like, but it snapped me into reality: what if he thinks I'm fat? I can't have a boy who doesn't even know me thinking I'm fat while he's kissing me.

I guess my point here is that you took over my entire life. I felt so comfortable with you, I was so focused on you, that I didn't get a chance to stop, slow down and take a good, hard look at myself. If I had, I would have seen a girl with too much eyeliner on, lips that were way to shiny to be that way naturally, breasts that were nearly falling out of her top, and who had a very, very large potbelly hanging over her too-short shorts. I dressed this way because I wanted to look good for you, but I was so comfortable with weighing nearly 140 pounds, there was no way I could have ever looked good in all of those seven months.

Maybe when you come to visit, I'll be wearing no make-up, my glasses, sweatpants and a t-shirt, but I'll at least be skinnier than I was with you and happy to be focused on myself, the person who I ignored from December to July of 2010. I realize now that she should have been more important in my eyes than you.

After all, you were only my freshman boyfriend.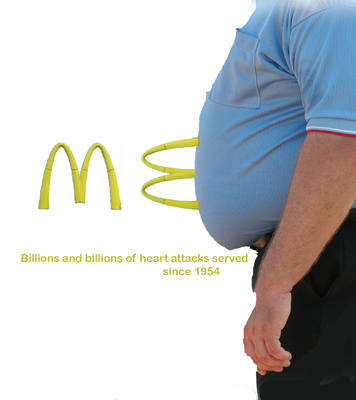 © Sean C., Princeton, IL