Warm Arms
December 19, 2011
??????? gently shook her head and pulled away from him. The cold dark bitter air stabbed at her exposed skin and she let out a small shriek. Elegant and simply frightening. She began walking away. The small ice crystallized snowflakes fell down the Moscow streets. She shivered and felt something grab her wrist. She was suddenly twirled backwards and in the arms that were so familiar to her.


The arms that kept her safe, warm, and completely loved. ?????? gently lifted her head up. Her slightly whipping ginger-blonde hair moved more at the sweet touch.
He leaned in and kissed her. His luscious lips met hers desperately. His hand placed perfectly on her back as she kissed him. She felt as if- her world was all fixed again.

Her parents weren't horrible, her job wasn't cruel, everything was perfect. Just meeting him here in secret caring for her.

What else was a poor trapped Princess supposed to do? Marry the abusive Prince ?????? Never. She would meet the poor, misunderstood ?????? any day she could. She would marry him every day if you she could. Kingdom forbids so. Like she cared.


She pulled away from him and smiled her small smile. He laughed a little. Her world was so...good...in the warmth of his arms.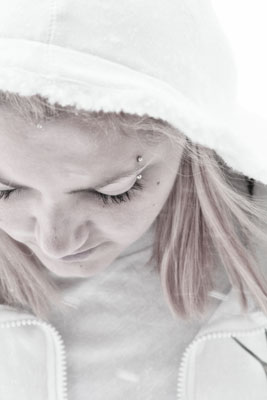 © Jessica F., Bradford, MA