A Piece of Heaven (part 2)
January 4, 2012
I ran home and made it through my window just as my alarm went off. I turn it off and get ready to take a shower. As I'm washing I plan out my day. I've got school first then work. I come home to mom and then I get to see Noah.Noah, what a cute name. I can't help but smile. When I step out I put on some black skinnies, a red tank top and a white low cut shirt. After I step out of the bathroom and into my room I slide into my red converse and grab my books. Today I'm out the door before mom is even up, what a relief.

School was never better than home, but at least I don't have to worry about people trying to beat me up. Being a school loner, I don't have friends but I am okay with it.I 'm a straight A student and proud of it. I have scholarships all over the place and colleges begging to have me in their school. With all honors and AP classes, it became hard to stay focused for once in my life. There's someone on my mind and it's not Kelly who was cheating off of me in AP Chemistry. Or Kevin who asked me for the homework in Honors English IV. It was Noah, how caring he seemed to be, and how handsome he really was.

The day passes by and before I know it I'm stuck in lunch, but like every other day I'm hiding out in the library. helping the librarian put the books on their proper shelves. Ms. Tinker loves having me to talk to, she tells me all about her problems which usually leads me to hugging her and telling her it will all get better. Although today, we just work in silence.
I take a break after helping Ms. Tinker and walk into the cafeteria to grab a soda. Shortly after though, I find this to be a mistake. Kelly and her group walk up to me and start harassing me. Before having to deal with much more I walk away and head straight to AP History. I would rather sit in the classroom and draw then have to deal with that. The bell finally rings and Mr. Bishop walks in.

"Emilie," he smiles, "always here early."

"Well when I get out of hell I won't be here so early," I reply.


"How bad is it at home?" He questions.

"She was asleep all night and this morning, so my guess is she was out all day yesterday," I spoke quietly.

Every adult in our small town of Grey Court, South Carolina knows about my mom. None of the teens know though. But they had all seen my mom down at the local bar every day or night. She was always talking to some guy passing through, promising him a good night or something. It was sickening.
My last three classes also whiz by. I go to my locker, grab my keys and my work bag and then walk out to my car. Kelly and the girls giggle as I come out. As I pass them by Kelly grabs my arm and twists me around to face her. Oh great, I think.

"Hey everyone look, Ms. Cast has her arm in a bind," she laughs wittily.

"Nice one Kelly," Brittney comments.

Kelly lets me go and I just stand there waiting for the rest of it. Kelly keeps talking and I start getting worked up.

"Look who's talking Dumb and Dumber. They think they are so smart with their lame comments about my name. Good job would you like some slap with that b****?" I smirk.

"Who do you think you are?" Kelly is pissed. She shoves me to the ground and at this point we have a crowd. I wince as the recent wounds hit the earth below me but stand back up.

"I'm the b**** smart enough to not get pushed around. Do that again and I might have to get my hands dirty." I reply.

"You'll regret those words," she shoves me but I stand my ground I don't even teeter.

"I warned you," I pushed her off her heels and punched her in her perfect little face. I got real close and said, "Now stay out of my life. And don't you ever threaten me again."

I get up and walk away. I push my way out of the crowd as they just stare; I hop in my truck and pull out of there. I make it down to Tom's diner, owned by Tom, himself and his wife Lucy. It's a family business that will be passed down to either John who is 12 or their daughter Maggie who is 8, the only reason I work there is because they found out about my mom six years ago.

Tom is a tall man in his late thirties, Dark haired and tan with a wonderful and funny personality. He's also the best cook in town. His wife Lucy is twenty-five and blonde but the smartest woman I've ever met. She makes all of the desserts and in my opinion is the only reason the locals keep coming back. John is well John, he's fun and loves to work. Maggie is a little young to be working but she's great for a conversation and keeps the customers happy.

I'm the only waitress in the small diner but enough people come in to keep me on my toes. Everyone always asks how I'm doing and if there is anything they can do to help me. I feel so welcomed everytime I come in to work. The day turns to night and I count up my share of tips, sweep the floors and hope for more work. Alas at 8 o'clock I head home, afraid to at what I may find I sit in the driveway and ponder my thoughts.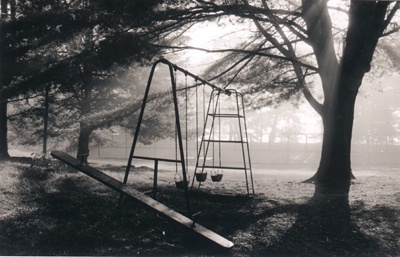 © by Steve S., Marblehead, MA