When I'm Sixty-Four
January 16, 2012
"...And when we're older, sometime, and my hair is all falling out- I'll look like our math teacher Mr. Harrison, probably- I'll still send you birthday cards, valentines, maybe even a bottle of wine, since it'll finally be legal for us to drink and all..."

"Let's hope that you don't look like Mr. Harrison."

A nervous chuckle.

"Well, you'll be older too, of course, and maybe, maybe if you just say yes, we could be old, you know, together. I could mend the fuse when the lights blow out and you could knit me an itchy sweater by the fireside, and even though I'll hate the old thing, I'll wear it Sunday morning when we go for a ride in my little beat-up blue Camarro."

An eyebrow raised.

"But we'll live in this very quaint little cottage, the kind with the ivy growing up the brick walls, and you'll plant the garden and dig up the weeds and it'll be so pretty in the spring...and then summer, every summer we'll rent a tiny summer home- it'll be just perfect, straight from a postcard- in, umm, the Isle of Wight."

"Oh, doesn't that just sound oh-so dear?" A mocking laugh.

"And then when we return home for the winter, our grandchildren-"

"Grandchildren?"

"Sure, the grandchildren- Vera, Dave, and, Chuck- Chuck Junior, of course, will come bounding down the little sidewalk through your garden, bust down the yellow front door and sit on our knees just to hear their Granny and Grandpa tell them all sorts of wonderful tales, you know."

"I think you're missing the point, Chuck."

"Oh. Err, right. So what do you say? I'll give you as much time as you need to think about it- you can even send me a postcard from England, since you said once that you wished you could go to college there- well, I think. Can't remember."

An eye roll.

"Anywho, only send the postcard if you need that much time to think it over. Hopefully you won't. I don't know. You can always call me this afternoon, or maybe tomorrow or the next day. It doesn't matter too much. Of course, you can forget all the stuff I just said, I mean, I don't know if we'll still be together when we're sixty-four, or if we'll ever be together at all, of course. I just want to know-"

"If you'd go out with me?"

A hopeless sigh.

"Yes, I just want to know if you'd maybe...like to go on a date. Movies or something. With me. So." Two sweaty palms ran through a quivering crew-cut. "What do you think Vera will say to that?"

"Oh, I have no idea what she'll say- pssssh, chick minds, you know- but that's all you should say to her." Chuck's friend counted the words on his fingers. "Do-You-Want-To-Go-Out-With-Me. Eight words- no more. 'Cause the vision into your wrinkly future might creep Vera out, don't you think?"

"I don't think so."

Chuck turned around to find Vera standing behind him, a brilliant smile painted on her delicate face.

A brilliant smile he'd still know when he was sixty-four.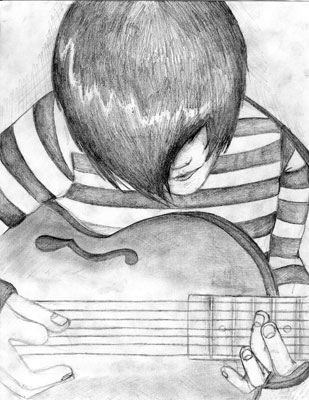 © Amy R., Yardville, NJ