Shades of Gray
February 10, 2012
Your hands caress me. Softly. Like you always do. It's almost like you're afraid of breaking me. But you're not. I know you're not. We've been through too much for you to be afraid.
This time you're different, though, distant almost. Absentminded. Like you are afraid – or nervous. What do you have to be nervous of, my love? We've been through so much. How can you be nervous?
You draw away from me and I almost miss the words your lips form. Almost. But I hear enough. My heart cracks. How can you even conceive of this thing? We've been through so much. I ask what you mean and you repeat the words. Those heart-breaking tear-jerking words. Then you walk away; ignoring the shattered debris you leave in your wake.
My mind is reeling. How could you? I can feel my world crumbling, disintegrating around me. My knees shake and I stumble over to a bench. The bell rings, but I ignore it. Red bits, like pieces of shattered glass, act like shrapnel in my chest. How could you?
A month passes in slow spurts, yet a hole still remains. Black as night, it sucks out any light. I stumble whenever I see you. You won't even look at me. My friends call you a jerk and other, more profane names. But you weren't any of those when we—when we were together. I still can't think of it without crying. How could you? How?
You're friends tease you whenever I pass by. You simply shrug at their jabs. I… I suppose you didn't think much of the social repercussions your decision would have.
Yet, life goes on, a dull gray comparison to the color of what I once led. And another month slips by, seemingly faster than the last. I don't cry – often – anymore. I can walk properly now. My heart jerks whenever I see you, though. How—how could you?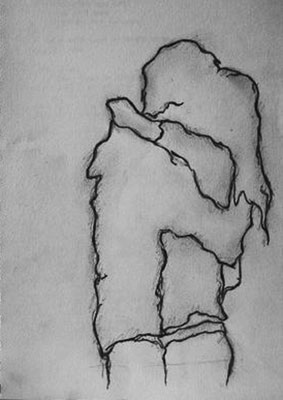 © Nicole B., Newcastle, WA