Return to me
April 13, 2012
His hand is griping my so tight it would hurt if he wasn't leaving today. Today he can hold my hand as tight as he wants. He can wrap me in a hug and never let go, as long as he returns to me.

His early deployment is a sign that the fighting hasn't ended. I cried when he recieved the call that late september night. I prayed they had called the wrong person. His words didn't comfort me in the least.

Standing in the airport holding the hand of a soldier dressed and ready for battle the only thing I can think of is losing him. I couldn't cope with the grief of losing him. There is no question, from the day we met when I was in college to today I love him with everything I am. If there were a book written about my life he would be the Prince, he would be the knight in shinning armor, he would be where my life began.

Like always he knew something was wrong. He dropped his bag and turned to face me. Out of the million things he could say to me he says only three words, I love you. I smile and somehow feel better. As he retrieves his bag from the floor I whisper, return to me. He looks at me for a few moments then he says the same thing he said to me the very first time he left for his first deployment, I'm Superman remember, with your love in my heart and your picture in my pocket nothing can hurt me.

As I watch him walk away in his camo uniform and bag over his shoulder, I know he will be returning to me.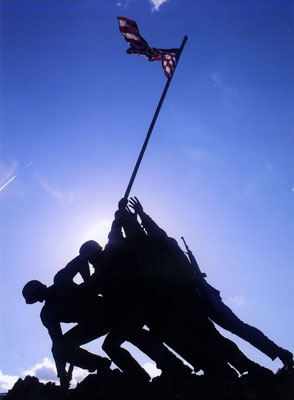 © James M., Glendale, AZ