Green Mechanical Pencil
May 22, 2012
It was Tuesday. Nothing special was going on. We where reading the most exciting book i had ever read, The Outsiders by S.E Hinton. Sadly my class mates didn't have the same feeling, they felt it was boring,' how?' was my question. A book about gang wars and social status among young teenagers, how was that boring? I guess it didn't really matter after all it was their personal opinion. Between first and second period i stood next to the water fountain like i always do, reading the bulletin. I knew that board upside down and side to side. Anything going on, i knew about. After a few minutes of studying the testing schedule i heard my name and looked back, " Ya?"

A boy with shaggy black hair smiled at me. "How are you, Ally?"

This was truly abnormal no one talked to me and i mean no one. If there was a choice between my company and a trash can I'd still be all alone. "Eh good, what do you need?" I got straight to the point. He must have needed to borrow something.

He seemed slightly put of by my hasty and slightly rude response. "Uh well." he scratched the back of his head. OK this was getting strange. I broke the silence.

"You need to borrow a pencil?" I held out a green mechanical pencil. He took it quickly averting his gaze.

"Ya, um bye." i knew it. I watched his scrawny figure walk down the hall then returned to the board, but something was chewing at the back of my mind. Something truly strange was going on. A scarlet colored blush rose to my cheeks and i quickly composed myself. Ya right, i thought quietly. Nobody liked me.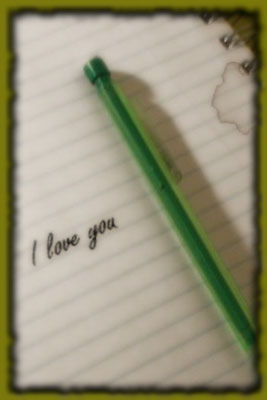 © Rebecca B., Marietta, GA