Love waits for no one.
July 13, 2012
As I blew out my candles I only wished for one thing, that he would come that he will have waited. But when I opened my eyes I looked around and realized only my family and close friends stood around me. I was finally 18, an adult and that meant I could date him. I remember looking at the ceiling of my room the night before, pondering the thought of would I ever see him, again. We had kept in contact, for a while but in truth he hadn't texted me in 2 years. In fact it was almost childish to think he had waited 4 years for me. But I had waited, I hadn't dated anyone since the day I met him. Had he?
Of course he had, he'd probably forgotten about me. Forgot how we fell in love or how he said he'd find me wherever in the world I was on my 18th birthday, how could he forget telling me he'd walk if there was no other alternative. I sure hadn't forgotten.
I still remember, clear as day the first time we met.
"Jordan this is my friend, Sam"
Anny told me, she introduced me to her crush he was handsome but obviously off limits. We were partnered together in group 2, and were walking passing flyers and we talked. We had more in common than I did with my best friend, in truth I had lied about some of my interests but he took them genuine and thought I was cool for liking what he did.
On our way back from rafting the river he sat next to me.
"Seat taken?"
"Not at all"
He told me about his life back home, away from this camp in another state. He was a hockey star of a small county, and he had plans on making it big.
I remember googling his name, and finding all kinds of ice hockey articles on his success.
On the last day of our trip I sat in the back of the bus with him, I was still unaware of how many feelings I had for this guy I just met. I was unaware of his too, he was older than me and maybe he thought I was too young. We shared headphones and were listening to music together, kids would come up and it looked like we were dating from the way we acted.
"Do you like him?" A girl asked whispering into my ear
I replied "No I have a boyfriend, we're just friends."
What I said was true, I was in a relationship but it was hanging by a thread. We'd argue more and more but since he was my first love I could never stop loving him. Even now on my 18th birthday a little bit of me was still in love with my childhood neighbor.
But what I realized was I had a stronger love for this stranger, this guy I had fell in love with.
We were eating lunch, standing in line and my friends and I were huddled around gossiping.
"Sam texted me that he liked you"
"Really?"
She showed me the text and he had admitted to having a crush on me.
A smile escaped from my lips. On the last day of camp on the bus ride home we exchanged numbers and a hug I told him he better text me and he said
"You better text back"
He smiled and my parents hugged me next, talking about how much they missed me.
But now, 4 years later I was staring at the cake with a big 18 on it.
I ate the cake and it reminded me of how he said his favorite type was chocolate. I smiled at this faded memory. Every time I did something I thought of him, little things reminded me of him and it kept him on my mind.
Now I lay on my tear soaked pillow, it's 11:57 only 3 minutes until it won't be my 18th birthday. I guess it was stupid to think he would even know my address, it was stupid to think-
My thoughts were interrupted by a thud, it sounded like a bird had hit my window.
Oh no, I hope he's ok I thought as I pulled back the curtains to my balcony.
On my balcony stood a tall 20 year old version of Sam the 16 year old guy I fell in love with at camp so many years ago.
He took out his phone and read "If you are not by my side on the day you turn 18 then I'll drive to wherever you are, and I'll walk if there's no other way. Just to see you."
He showed me the screen. It was a text sent to me on July 12th 4 years ago.
I guess love waits for no one, except for me.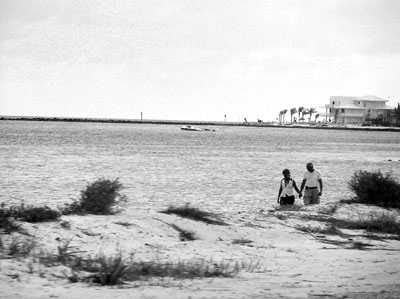 © Edgard B., Coral Springs, FL