Black Love
October 14, 2012
I stud there frozen, intimidated by his figure. It was if every thought, breath, and movement was controlled by him. For the first time I was scared. My brain just stud there all hollowed out, trapped in some mind field. One wrong mistake and it blows up.
" Are you dumb or what?"
The loud thunder of his voice echoed through out my ears, sending signals down my body. Red sirens were flaring mad crazy inside my head. Mind, mind, mind! Don't step there!
I was just..... just clueless. As depressing as it sounds, my head just hung low, staring at the cracks in the basement floors. Once in a while a small lady bug would crawl around searching for an escape. But just like me, the little guy was trapped.
" Hey, I am speaking to you!" His body was drawing in closer to mine. The pitch blackness suddenly caved in around me. At this distance my lungs were taking in every breath of him. He was flawless but not mine.
Without thinking my coscience spoke out of turn " Your the most handsome person I have ever seen" . My voice was mellow, smooth and even without a trace of fear. If I wouldn't have ever known, the sentence was as if it was practiced for a month. In my case, several years.
Every part of my heart loved this man. Cared for this man. But in a split second, missing one heartbeat, I feared him. His eyes cut through the flesh of my skin all the way down to the bone. All the time standing in front of him, I felt naked and weak in his presents.
" I can't do this"
" Being with me?" my voice shook a little.
" Loving you" His voice spoke softly barely enough for me to hear him. Suddenly his breath was growing thinner as he stepped slowly back, leaving me alone in the darkness. At the door his back turned away , the moment where it all ends.
My body was in solid shock, spinning its self in a full circle. Mayday! Mayday! Attention, attention we have hit a mind. Body is going down. The sirens that once have bursted loudly fell silent. Pain filled it's way through every crack in the skin. All I could do was fight my way through dying heartless. My eyes created a thunder less flood while my throat blocked the airway.
When I though all was over hope gave in. " For your information, I have always loved you but I cant love you, knowing that I can loose you".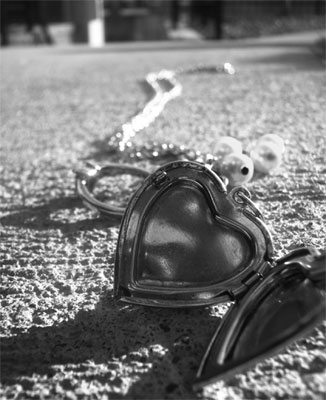 © Francesca Y., Robbinsdale, MN