"Are you gonna be my girl?"
October 26, 2012
Tired eyes, foggy mind, rain on your windshield. I see your smile on the rear view mirror; we wait outside. Dogs howl. Guards pass by, then a noisy cycle. The newborn sky is a baby pink and blue. I open the door, step out and am met with the strong scent of cow dung mixed with something indistinguishably rural. Stretch. Muscles still tense. Arms and legs bitten a fading pink--angrier than the one above me. Colors hurt, you make me smile. Backseat. I curl up.You hum something, I think--you could be talking, all I hear is music. You're beautiful. You turn on the radio. I've never heard this tune before but I know it. I laugh. It's beautiful! It's beautiful! You laugh at how music affects me. I sway with the rapid strumming. You move in closer--I can't get the window to roll down. You move in closer, and time stops. You skim my skin lightly--lovely accidents. Those two inches of electric stimulus grow over me--I sequester myself in your touch today. Your eyes aren't their usual shiny selves in that moment. Stardust. These thick black lashes contain a silent explosion.




We'll do it all. Everything. On our own.




Wet grass blades. Dark smoggy maroon skies. You tell me you're waiting for me in the lawn. Nervous, I peer over the window pane. Cautious, I check for guards. No one but the usual--the stinky black one, the speckled sickly one and Audi. I climb over the chair, jump out of the window. Adrenaline. I love running, did you know that? I run run run! Laughter fills my lungs, I see you. On your back, you're lost in Faerie. We share our love for stargazing. There aren't many to see. I don't know their names, but it's the action itself. The process. Losing myself to the vastness of the great canvas above. You tell me about nimbus, cumulus, stratus and cirrus clouds.Your eyes sparkle when you're lost in thought. We talk for hours. Wake up, little one. Sun's up. 5 hours--where'd they go? Ah, well. Another day spent stealing time between classes.


We don't need anything. Or anyone.


Sun's shining bright and fierce--kissing warm honey on my bare, wet skin. We take refuge under crumbling arches and look onto the the pretty red and brown give way to the loud grey of the flyover ahead. We whisper dark stories and laugh away to the echoes Feroz Shah Kotla sings back to us. An old man of orange skin, deep black gashes and sunken eyes sits on a worn out mat. White cap nestled atop a scarce grey; he hums baritone in foreign tongue. I trace red ants coloring the ridges between red bricks--thousands of stories circulate along the veins of these crumbling walls. Muddy feet, wet hair--we count mynas with our fingers and I kiss our luck, seal our fate.


If I lay here. If I just lay here. Will you lie with me and just forget the world?



You told me you were indifferent today. It's been a little over a month now. This is new. I am just another girl today. I let you run away. I sit on the window ledge, alone. I feel like a painting. Empty lecture hall, broken glass, the same Kotla frames my eyes. Smoke swirls and dances and rises above me. Riptides of silk burn my voice, and I pick up my phone. I dial unknown numbers and ask them if they knew where I was. I breathe poison. You come back. You're quiet now. You want reassurance. Love. I turn away, let fire consume me. Words, words, words. You cut so mechanically, you speak so mechanically. I try to explain myself, I want to cry. You are stern. You ask me to be concise. I storm off. You follow me. I tell you you make me hate myself. I slam my fist hard against the wall. Twinkly eyed concern. You ask me to hurt you. I can't. Punch walls, they don't budge.


I don't quite know. How to say. How I feel.


A month ago.
The backseat.
I'm tired. The content kind of tired. We've been up all night talking again. Eyes closed, we face each other. You've been telling me about your childhood. About the naughty kid you were. St. Francis. I like listening to you. You're such a contradiction. I sigh. Cheek on cold glass. You sing a familiar tune. I want this to last forever. You make me say trite things, but you make me mean it so I guess it's alright.



Those three words, are said too much.
They're not enough.

If I lay here If I just lay here
Would you lie with me and just forget the world?

Forget what we're told
Before we get too old
Show me a garden that's bursting into life

Let's waste time
Chasing cars
Around our heads

I love you.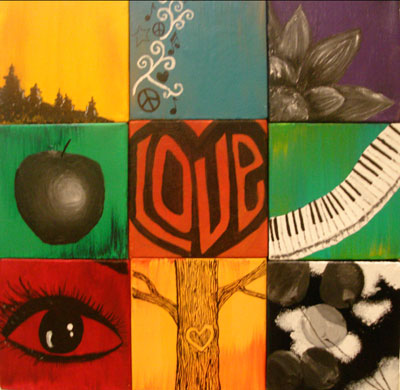 © Christina E., Henderson, NV