Abriella
November 25, 2012
Shuffling through the mail that had been discarded onto the counter, I came across one that was incredibly tattered. I saw the name on the return address and gasped. It has been a good month since I heard the news. How could I just get this letter now?



Dear Cara,

I know. It has been eighteen long months. I feel compelled to say this because I can just imagine what you must be going through over there in Kansas. As I am about to tell you what I am, tears stream down my face, forming a rushing river down the side of the paper.

I know that the baby is due in April. Five months from now seems like nothing, right? Wrong. Unfortunately, I am being sent to Afghanistan again. There is a sudden breakout of warfare going on over there and they are deploying all of their Majors. This means that I will be there for the next few months. I cannot guarantee that I will be alive when you touch my face again. However, right now, all I can picture is you drawing hearts on my palms. I can feel your soft skin on mine. It pains me to write to you that this could potentially be the last time you ever hear from me.

Baby, I love you. In the event that I don't make it home, please understand that I tried very hard to come back to you. Cherish the memories that we had together and share them with our child. Let our little girl know that she was loved by her daddy the minute I knew she was a possibility.

Show her pictures of you and I together and show her how to love the way we loved each other.

For me, give her a new father figure to love on her and adore her as much as I would. Find love again, Cara. I love you too much to think of you being alone for the next seventy five years.

If I die, I will watch over you and our daughter endlessly. I will see you once again in Heaven.

I love you, Cara. Forever. Just like your wedding band says, "I Will Love You After Death Do Us Part".



For me, Cara, name our daughter Abriella. It means to be a strong, independent, and beautiful soul in French. Those are the characteristics I know a daughter that would come from you would posses.



Goodbye, my beautiful Cara.

I Love You,

Lucas.



I finished reading the letter, my mouth agape and my breath coming out in short, rapid breaths.

I felt the most immense pain shoot through my heart and my stomach at the same moment. I looked down just barely as my water broke. Abriella.

I slowly moved down to the floor and closed my eyes. I prayed "Dear God, please, oh please, God. Let me deliver this child without problem. I might not make it otherwise, God. Lord, please help me to raise this child the way Lucas would have wanted. Amen."

Tears streaming from my sore eyes, I began a different prayer.

"Lucas, if you are truly with us right now, please stay with me at the hospital. Please. I love you. Help me through this. Help me for Abriella. I miss you so much. I won't ever be able to forget right now. I love you."

And with that, I got up from the floor and picked up the phone to call an ambulance.

Letter, envelope, and wedding ring all attached to my left hand, I let them lead me away when the time came.

It was time to be strong.

For Abriella.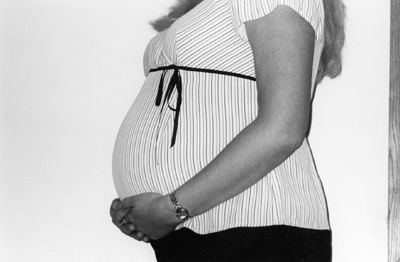 © Cathryn C. Pequannock, NJ