A Piece of Heaven (Part 3)
December 31, 2012
As I sit though I remember that I have to go meet Noah. Oh sweet Noah, maybe he is as sweet as he makes out to be. I hurry out of my truck and into the house but she is awake.
"Hey slut. Where have you been all day," She slurs the words.
"I had school and work mom," I whisper.
"And where is my money. Give it here. NOW." She gets up and is angered. I had already set aside half of my tips knowing she'd be up.
"Here" I hand it to her gingerly, keeping my distance.
"This is all?! You are a liar! WHERE IS THE REST OF IT?!?" She hits me.
"That's it I swear" I whisper.
"No it is not." She hits me again and again.
~~~~
After a few hours she goes to bed and I can get up, but the pain is too substancial. I breathe and make myself get up. I slowly get out of my work clothes and scan over the forming bruises, the open wounds. I grab my emergency kit and clean up although it stings so bad. Finally I get the bandages on and get dressed to meet Noah. Ever so slowly I make my way there.
He sees me inching towards the park and rushes over to me. "Oh my god what happened?!? Are you okay???"
"I can't talk about it. Please just sit with me." I whisper.
"Okay here tell me where you want to go. I'll carry you." He offeres.
"Over near the tree, please." I whisper.
He carries me over there and we sit together my head resting on his chest. He is gentle with me, senseing the places where my wounds are and being careful to not touch them too much. I close my eyes lightly and start to drift off to sleep when he starts talking to me.
"Emilie please tell me who did this to you, how did this happen?" He whispers and then kissed my head.
"I- I- I-... My mom..." I say slowly.
His mouth gaps open and he is speechless. I look down ashamed, how could I look anywhere else. I was worthless.
"Emilie. I- I- I am so sorry. How long has she done this? How are you still living there?!?" He stuttered it all out.
"For as long as I can remember. I don't have anywhere else to go..." I sighed.
"Emilie I want to protect you. You deserve so much better. Is there anything I can do?" He picked my chin up and made me look at him and with tears in my eyes he still looked handsome. "Don't cry, you are to beautiful for sadness."
"You are too good to me Noah, I don't deserve this." I cried harder.
"But you do." He brought me even closer to him. "I will be here for you."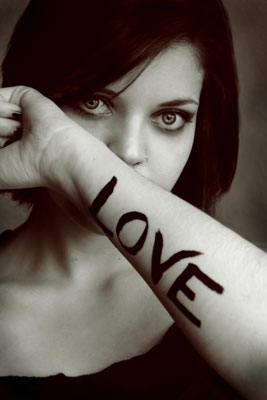 © Michelle B., Blairsville, GA