5/25/2013
May 7, 2013
5/25/2013

I love your eyes.

There's a club called Random Acts of Kindness, or something like that. Anyway, they make these compliment Post-it notes and stick them up all over the school. I ran smack into one, and it said don't give up. Smiley face. So, I thought it would be a good idea to post stuff on your wall. All the things I like about you. Smiley face.

6/1/2013

I love your smile.

I can't believe I've been posting every day, and it took me this long to come to this. Your smile. The day I first saw it seemed unremarkable. It wasn't until I knew you that I realized it was a miracle. You lift your lips, chip on your front tooth, and it's like the light of your soul sets fire to your face. And it's like that energy couldn't possibly be contained in one being, so it spreads and infects whoever it contacts. It always infects me.

6/15/2013

I love your mind.

School's over. Can you believe it? We've graduated. We're off to the big wide world to become freshman again. I got into a good school, but we both knew you were going somewhere big. A Harvard or a Princeton or a Yale. You've always been smart, which, if you couldn't already tell, is something I love about you. You're brilliant, but what I like most is that your curiosity isn't contained in books. You wonder about the world. You wonder lying on sloping hills, blades of grass glowing under the pale moonlight, letting the world in. You look up at the stars like a question mark. With me.

7/11/2013

I love your laugh.

It's hot. I think this has been one of the hottest summers on record. But it's okay, because you grin at me, show me the popsicles you have hiding behind your back, half melted and sticky syrup, and I scream when you flick the juice at me. You laugh, and the sound pours out of you like a song. High, clear, strong. It glides over my skin like water, washes away the bad, and like your smile I'm infected all over again.

7/19/2013

I love your eyes.

I know. I've already said this one, but I didn't do it justice the first time. I don't know if you've ever had that feeling, when someone looks at you and it's like a cord pulling tight, something clicking in…somewhere. Your soul, I guess, because it's more than your heart, or the little slips of electricity along your skin. It's everywhere, and everything feels right. Everything feels possible. You did that for me, every single time you looked at me. And you didn't even know it. There have been nights without sleep, wishing that the way you made me feel when you set those eyes on me was on purpose. I remember once. We were sitting on your roof, watching the sun crash through the horizon. The sky was painted in flames, and as the embers began to die you turned to me, and you watched. And I turned to you and I watched the light fade from your face. And we watched each other, until the sky and earth fell away and we were nowhere, just you and me. And I thought…I swear to god I thought…

but I'll never know.

8/19/2013

I love your kindness.

It's been a month. I think I'll never run out of things to say about you. I just think I love everything about you. The summer's been long, and dry. The heat blisters, turns a day into a haze. It's the few moments, the few blissful moments when the wind blows that I think of you. It whispers like a soothing balm, and I swear I can hear your voice. And it's when the wind stops that I know I miss you more than I can ever say. I realize it's not you, it's not your voice, your smile, your laugh. It's not you walking down the street to meet me, to sweep us off to another adventure. Because you're not here. Stagnant air lets in all the bad. Stagnant air does nothing to stop the tide, the flood of memories. Stagnant air reminds me of the day you didn't come home laughing. The day you came home in a body bag.

8/23/2013

I love your heart.

I have to come here, to your new home. It's the only way I feel close to you. I'm off to college in the fall, out of state. My parents are moving, because they think it's best. It's all so surreal. I see my future, but you're always in it. My mind doesn't process an alternative, like the world made some grand mistake and it'll right itself because you're not supposed to be dead. I've said that to myself so many nights, but it doesn't make your grave any less true. I can't even talk about you in past tense. The tears have left long ago. Now it's just the dread of having to spend a life living in this other reality, and the truth of always searching for you when you aren't there. Of searching for your heart, even if it wasn't shaped for me. Mine was always shaped for yours.

8/25/2013

I love your eyes, your smile, your laugh, your kindness, your heart, the sunlight in your hair, the freckles on your right eyelid, your crooked nose, your big ears, your band tee shirts, your scuffed Converse, your thoughtfulness, your long fingers, your warmth, your curiosity, your presence, your

8/27/2013

I love you.

So. This is it. My last day. One heck of a summer. After today is the beginning of my life without you. And I find that I do have tears left, thinking of all the ways I have to remember you. All the ways I have to miss you. You know, that Post-it note was a good one. Don't give up. I never will. I'll never surrender your memory, breathing life into you with every step I take. You are perfect. Perfect. And I know wherever you are there are popsicles, and hot summer days, and hills under pale moonlight, and sunsets like fire. And one day I'll be there with you again, and we can stare at the stars. But for now, for all the days I didn't say it, and all the days I'll miss you hence, I give you my last confession.

I love you.

Always and forever.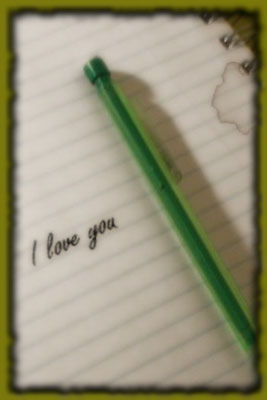 © Rebecca B., Marietta, GA