Princess Andromeda Remake
July 10, 2013
Andromeda was the daughter of a king and queen, Cepheus and Cassiopeia. Since she was a princess, her parents had her extremely protective. She never got to do what she wanted and if she did get to do something, her parents never left her side. Guys were not an option especially when it came to her father. The only guys they approved of were the sons of other wealthy people she went to dinners with. They always made her go to those dinners. She despised the whole thing. She'd sit there quietly and think to herself how horrible all the people were. They were judgmental, rude, and arrogant. Being there disgusted her. She vowed that she'd never ever be like her parents. She wanted to be so much better than they were.

Their house was on top of a hill looking over the entire village and miles away beyond that. Every night she would get locked in her room for the night. Her room was the highest part of their house. It was located dead center of it. Andromeda only had one window in her room so she can look at the village too. Her room was mostly pink. She had a king sized bed with pink and purple bed sheets with a light white-pink mosquito net around it. The only thing that wasn't pink was her black doubled doors that were for her closet.

Each night she'd stay up, sit in her window sill and wonder what it'd be like if she could go on her own. She wanted a normal life, but once in a while, a guy she met in the village store would come and visit her at night. His name was Perseus. He wasn't the wealthiest person, but she loved being around him. He was the only guy that she's ever talked to and actually liked. The rest were cocky and thought they were better than everyone else. Perseus was different though. He was kind, caring, good listener, cute, everything she could ever want plus more. He was her best guy friend and there were absolutely no secrets between them. They knew each other better than they knew their selves. They would stay up and talk all night. Right before dusk he'd leave so her parents wouldn't know.

Weeks pasted by since she last saw Perseus. She missed him and wanted to see him. So she waited until it was midnight and snuck out. She climbed out of her window, onto her roof, and went to the edge of the house. There was a great oak tree next to the house. She climbed down the tree then jumped down once she got to the ground. She ran down the opened, green hill and went into the village. Andromeda put up her hood of her jacket so that way people wouldn't notice her. It was dim in most areas and darker in others. She was walking down a brick road with many small alley ways and roads leading into it. She tried to stay discreet and close to the walls of the street. Soon there was no one around. It was only her on the street. She started to get a bad feeling in her stomach, so she was going to turn around and head home. Right as she did something had grabbed her. She wasn't able to make out who it was because her hood and hair got in the way of her view. She tried to fight whoever it was. She kicked and screamed until suddenly she felt exhausted. They hit her head off of a stone wall. Everything went black.

Andromeda finally awoken. She was tied to a rock with chains. Pulling and tugging, she tried to get free but she wasn't strong enough. She heard someone, "Hello?" She said. No one was there. Andromeda couldn't think of any reason for why someone wanted to do this to her, she never did anything, but then she remembered that a few months ago her mother had insulted the Nereid's and Poseidon by saying she was more beautiful. She heard over talking from a distance. Once she put all the pieces together she realized what her father had done. He sacrificed her to get rid of a sea monster attacking the coast. She knew she wouldn't be able to get out, but she tried anyways. In a distance, she saw Perseus and begged him to save her. He agreed, but before saving her he had to do something first. He went to the king and asked for his daughters hand in marriage. Cepheus agreed since it was the last resort to save his precious daughter. When Perseus got back, the sea monster was heading to get Andromeda. He jumped on top the monster and fought it to his death. Once the monster was dead he freed Andromeda.


When the two of them got back to talk to king so he could claim his marriage, the king failed to mention that she'd already been promised to Phineus. Andromeda didn't like him at all, which Perseus knew. So Perseus went to Andromeda's wedding to find Phineus. He took the medusa head out of a bag turning everyone into stone except himself and Andromeda.


Perseus and Andromeda got married. They then had seven boys and two girls. Andromeda got to be with the one she always wanted to be with. So she got her fairy tale.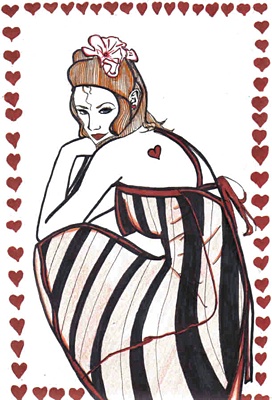 © Sara D., Aiken, SC