Fairytales Stolen
August 19, 2013
"Do you believe in fairy tales?" she asks him. He looks over at her and, for a while, he can't come up with an answer.

"I didn't, until I met you," he replies softly after a few minutes. She looks over at him and smiles. That was the answer she wanted to hear.

The couple had been lying in the green meadow for hours it seemed like. They always went there when the world became too much for them. Somehow, the wildflowers, sunshine, and just each other's company made their problems disappear, if only for a little while.

Both of them are lying on their backs, only inches from each other in the center of the field, their hands interlocked. She thinks about his answer a little while longer when she gets curious.

"Do you think we'll have a happy ending like the fairy tales?" she asks. Again, his first response is silence. After all they'd been through the past six months, was it possible for them to finally catch a break in the end?

"As long as you're with me, my ending will be happy," he whispers to her. Again, his answer is exactly what she wants to hear, even if she didn't think of it herself.

He looks down at his watch and realizes they've been gone for over five hours. A sigh escapes his lips and he stands up.

"Is it time?" she asks him. He nods and helps her to her feet. With their hands still interlocked, they make their way out of the field and back into the cold, hard world.

TWO YEARS LATER

"Promise you'll take care of yourself," she whispers to him.

"I promise," he replies softly. They've found themselves in the meadow yet again, this time however, he's in a camouflage uniform and she is wearing an engagement ring on her left hand.

He picks a red wildflower next to him and places it into her hair.

"I will always return to you," he whispers. She believes him, but for once, this isn't the answer she wants to hear. She wants him to stay forever and never leave.

He senses this and wraps his arms around her. He doesn't want to leave either. He never wants her to leave his arms. He always wants to be able to see her smile.

"Listen, I'll be back," he says trying to convince her and himself.

"I know," she replies, and with that he stands up.

"This time next year, we'll be married and have our fairy tale ending," he promises, and with that he leaves her with a soft kiss and memories.


TWO MONTHS LATER

She is sitting in her homely kitchen on a Sunday afternoon. Outside, a storm is raging. Rain has been pounding her tin roof for hours on end, and lightning flashes in through the windows every few seconds. Looking back now, she realizes it was a sign.

On the counter, in a glass vase is the wildflower he had placed in her hair two months ago. The flower is practically dead, with wilted leaves and fallen petals. She should have taken that as a sign to.

Sitting on the counter were hundreds of letters he had sent her over the past two months. All of them ended with the same thing. "I will keep my promise."

When she got the call, the doctors told her he tried as hard as he could to keep his promise, but it wasn't enough to get him through. The war had taken him away from her before they had their fairy tale ending.

TWO WEEKS LATER

"What happened to our fairy tale ending?" she whispers to him. Yet again they had found themselves in the meadow, except this time, she was the only one above ground.

Her cheeks are tear-streaked, and her heart broken. Lying in the meadow next to his grave stone, the sound of his voice fills her mind. 'I'll be back.' Maybe, in some way, he did keep his promise, but that's not the answer she wanted. She wanted his arms around her again. She wanted to feel his hand laced around hers. More than anything, she wanted his reassurances and his answers.

All around her, the red wildflowers are blooming. She picks a few, lays them above his grave, and makes her way back to the cold, hard world.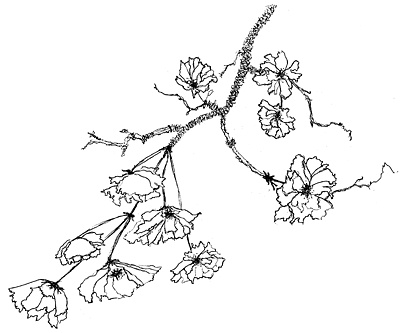 © Marybeth L., Hamilton, NY