Your My Miracle
November 10, 2008
There once was a boy named Michael, Michael was the type of boy that enjoyed
Playing sports at school and being with his friends he was outgoing and nice until his
Mother passed away after dropping him off at school on a Friday morning. Ever since Michael lives with his sister not with his father because his dad supposable went away for a while or at least that's what they tell Michael but he knows his dad ran away because he was scared of taking care of two kids by himself.
At school Michael doesn't really have a lot of friends as a matter of fact he doesn't have any, he lost them all after his mother because he just didn't care. Micheal went from being the kid everyone wanted to know to being the loser that no one wanted to talk to.
That was when it all started to change.
Michaels first appointment was on a weds day "the tip of the week" as his mom used to say so they went to the appointment. Michael didn't really know what to expect he thought it was going to be some lame guy always saying, " so how do you feel about that?" Michael got to the office and waited to be attended. Minutes pasted and he was called by a man with gray hairs all over, he had a long white jacket and asked me to come in with him the doctor took him to his office and said "please sit" Michael sat down on his creamed colored sofa. The doctor said "hello Michael I believe you are depressed or at least that's what I read I am dr. casten and I want to help you from what I see you lost your mother and you need someone to love you as she did and that love was so great you sister just cant replace it ". "Ok so," said Michael with and attitude. "Michael im trying to help you im not going to be your enemy or force you to do anything that's at least what I wasn't to accomplish so how did this begin?" asked Dr. Chasten,"well it all started a day after school", Michael went on and told him the sad story by the end the doctor said "Michael as I told you before the only thing you need is someone to love you like your mom did" Michael said doctor what ever your name is this is my mom we are talking about you just can replace that, she was my best friend , my best man or in this case woman I could go to my mom for anything and everything I loved her and I will never love anyone like I loved her It would take a miracle that only the lord and his angels can make possible maybe not even them I loved my mother like I love no one else and now she's gone and I wonder why sometimes, sometimes I wonder if I did something wrong or if I could have helped her more when she needed my help maybe this would have never happened if she didn't have to take me to school in the morning maybe if … the doctor quickly stopped Michael and said "Michael one important thing you have to understand is that your moms death was not your fault god has a time for everyone and it was her time im so sorry" "I said it once and I will again it would take a miracle for me to love someone as much as I loved my mom Michael" said and walked away

Ever since Michael told his sister about that appointment he never went back he received various calls from the doctors office but he ignored all of them.
So he continued going to school and living his life until one day this girl came up to him she said " hi im Kelsey what's your name?" Michael said " Michael, Michael dell" not only was she cute Michael thought but she actually came up and talked to me Michael got excited and listened to what she said " Im new here you think you can show me around?"
Michael was so busy staring at her he didn't answer " Michael so will you show me around?" she asked again " what huh yeah sure" Michael responded "ok then see you tomorrow" Michael rushed home did his homework and went to bed he couldn't wait to show Kelsey around school. When he got to school Thursday morning there she was waiting for him and she said "Michael you made it that's great so where's the science lab that's my 1st class" Michael spent the whole day with her even at lunch he was surprised she didn't have any friends she was pretty and nice nothing was missing but a posy to follow her around. Michael and her made a promise that day to sit together at lunch everyday so that's how it went. Months past and Kelsey knew more and more about Michael than he ever thought she'd know she even knew about his mom. The funny thing was she was so like his mom he was starting to think a miracle was happening.
He was sure that all this was a miracle when Kelsey said the exact words Michaels mom told him days before her death they were, "when life gives you a hundred reasons to cry think of a thousand reasons to smile" after Kelsey said those words Michael told her Kelsey you're my miracle and leaned forward to kiss her. Ever since those words Kelsey and Michael have been dating inseparable ever since.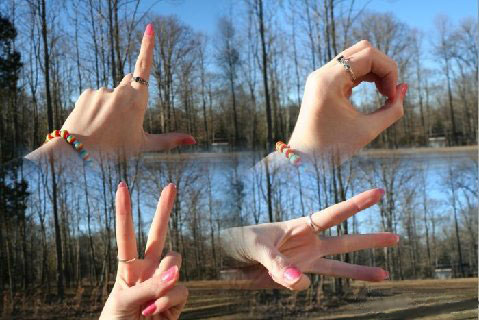 © Anonymous