Crush
March 24, 2014
John Brady was a nobody. He always slipped by unnoticed due to the fact that he was reserved. He never spoke and he hardly ever looked up from the ground. It was safe to say that John was a loner. No one paid him any mind. Well, except for me.

John and I ride on the same school bus. We sit across from each other. It's just the two of us on the bus; none of the other kids in town live so close to Bellmounte Woods.

You see, I live in the very small town of Trenton. Trenton is smack in the middle of nowhere, surrounded by thick woods and endless grass plains. Bellmounte Woods is towards the back end of the town, and anyone who can, avoids living close to there. For some reason, the people of Trenton are scared of Bellmounte. Hence why most families tend to live in the town square, leaving the few hermits and recluses of the town to settle near the back roads and woods. John and I, unfortunately, are among that few.

Every school morning, the little short bus would rattle along the dirt road and pick me up. I would then head straight for the back of the bus and take my seat across from him. As creepy as it sounds, I practically spend the whole ride to school staring at him. He never acknowledges my presence though. I don't blame him. I'm not exactly a social butterfly either.

My mom's been the town drunk ever since my father left us when I was a baby. I don't remember him, but my mom drowns out the memories with liquor. Due to my empty home life, I've never really learned how to deal with other people. My mom, although around physically, was absent mentally and emotionally due to her constant drinking. Basically, I had to raise myself. I taught myself to be independent in all ways. I've never had friends and I prefer it that way.

At school, I avoided interactions with my peers at all costs. I did what was required of me and no more. People have called me weird and have made fun of me on many occasions. They do the same to John as well. But I pay them no mind. I could care less about any of them. John doesn't seem to be bothered by the bullying either. I guess people like me and John weren't meant to have friends.

I don't mind being alone. When people get too close to you, they become liabilities and detriments. I've learned that the hard way with my mom. I'd much rather be by myself.

That's why my obsession with John is confusing. Well, maybe obsession is too intense of a word. Infatuation is better suiting. My infatuation with John is an anomaly. I've never been drawn to someone so deeply before. This was the first "crush" I've ever had, and I was scared and yet exhilarated at the same time.

Every time I look at him, I feel the need to...comfort him. Is that strange? I mean, he always looks so depressed. And lonely. Sometimes I wonder if that's how I look to others. Whenever I see him, I just want to hear his story. I feel such a strong need to figure him out. He's a mystery, a complex puzzle that I'm just dying to solve.

But how can I solve him if I can't even manage a hello? Even if I could, my communication skills are nonexistent. I wouldn't know where to steer the conversation if we got past the formalities. It's pathetic really.

The thought of speaking to him takes over my mind all the time. It's the first thing I think about when I wake up, and the last thing before I fall asleep. It drives me absolutely mad. Crazy to the point where one morning, I finally built up the courage to say something to him. I went overboard of course.

I put on my best clothes and washed my hair with my mother's fancy French shampoo. I brushed my teeth three times: twice with toothpaste, finishing with mouthwash.

I didn't know what I was so nervous for. It was just conversation with John Brady. Nothing serious or drastic. But the idea of hearing his voice for the first time, maybe even having his eyes look into mine, had me reeling. This was important and I couldn't put it down.

I walked to the bus-stop in a green sundress that my mother had given me during one of her sober streaks.

"Something beautiful for someone ugly," she had said.

My mother's opinion of my looks was severely biased. She claims I'm the spitting image of my absent father. That being said, I guess my father is a ginger with steely gray eyes, has an embarrassing mess of freckles all over his body, and is unbelievably pale.

I didn't particularly think I was ugly. When I look in the mirror, I don't see anything special, but I know I'm not the bottom of the barrel either.

I had gotten on the bus having serious doubts about myself. I felt a lump swell up in my throat as I approached the back seats. He wasn't there. John wasn't on the bus. He never misses a day of school. I don't think I can remember a day where I haven't seen him show up on the bus.

I sat down in my seat, highly disappointed. All of my effort was for nothing. I took his absence as a sign from a higher power that it just wasn't meant to be. It's sad really, but looking at his empty seat almost made me want to cry.

John didn't show up for a week.

Everyday, I'd get on that bus looking for his gloomy figure and everyday, I was dissatisfied. I told myself that this was a good thing, that me so desperately seeking his companionship was dangerous. But he was the only thing that made me happy. It was weird how I made a stranger the center of my joy. Especially one who was so reclusive. But it was the truth. Trying to figure out John made me happy.

So it's a given that when he reappeared the following week, I was over ecstatic. I was a little pissed that I wasn't dressed to impress, but that feeling slipped away when I slid into my seat. I stared at him like usual and couldn't control the beaming smile on my face. I probably looked like a creep.

John didn't seem to notice me, as usual, so I decided that now was as good of a time to speak to him.

"Hey John," I said. My voice was too loud and I instantly regretted speaking. Stupid, stupid, stupid. I totally blew it. He probably thinks I'm obnoxious now.
I froze as I awaited his response.

He didn't react at first, but slowly he turned my way, and for the first time ever, I got to really look at him.

John had shaggy brown hair that swept over his forehead and eyes that shined in their hazel glory. His eyelashes were long and full and his lips were thin and pink. He had no blemishes, and his skin looked so soft, that I had to resist the urge to reach across and caress it. He looked exhausted as if he hadn't slept in years, and there was an undeniable sadness in his eyes.

He looked at me questionably and opened his mouth to speak only to shut it abruptly. He broke our gaze and looked away.

My heart dropped to my toes. I had finally gotten his attention but he didn't want to talk. Filled with dread, I turned away, fighting back my tears. God, why did he always make me want to cry?

"Hey Erin."

John had spoken so softly, that if I hadn't been overly aware of his presence, I would've missed it. He knew my name. Oh my god, he knew my name.

Our conversation ended there and I was glad for it. I was so euphoric from hearing my name from his mouth, that I wouldn't have been able to speak. He knew my name, he knew who I was, and that was all that mattered.

This thing that I have for John is more than a crush. I can feel it in my bones. I don't know how long this feeling will last, but I'm going to hold on to it, and enjoy it, for as long as I possibly can.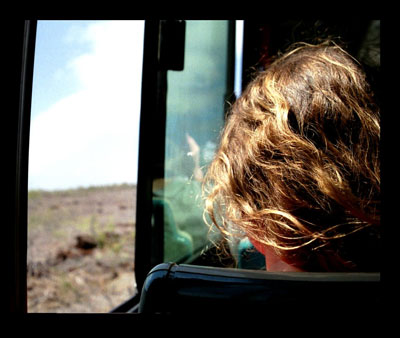 © Kate S., Hopkinton, MA