True Love
April 25, 2014
Her hair flowed sweetly in the autumn wind.

Brown loose locks frame her fair face. A meadow full of wild flowers bask in the sleepy sun as it descends past mountains of snow. She lifts her face to the sky with eyes closed as the wind brushes her skin. No where else in this moment would she rather be. The wild flowers tickle her ankles and she hears the faint footsteps behind her.

Warm hands cup her arms as one hand trails down to her fingertips. A flower is folded into her hand and she smiles quietly. His face comes to hers as he engulfs her from behind. She meets her cheek to his and despite this new warmth between them, she shivers. His nose brushes her skin and the breath of his in her ear makes her heart beat faster. A wisp of the wind or the words of another bring life to her cheeks. A simple, "I love you," was spoken so faintly. Her arms tightened around his and she replied with a smile in her heart.

His arms released hers and in one quick movement he was in front of her, holding her delicate hands in his. She looked into his eyes to find nothing but passion and truth and she mimicked the gaze. He drew her face close and kissed her tenderly on her head. Taking her hands back into his, he slowly lowered down on one knee. The flower he had pressed into her hand he now took back, and surrounding its stem was a silver ring.

Looking into her eyes once more, this time with more passion, he slid the ring on the proper finger and said, "Katherine Gail, will you --."

"I love you, too!" she exclaimed and pulled him close to her. She wrapped her arms around his neck and whispered, "Yes, I will. I will today and tomorrow and again forever."

With the two embracing, the sun had sunk. But before it left completely, it set the skies and mountains ablaze for the fury of their love.

True love.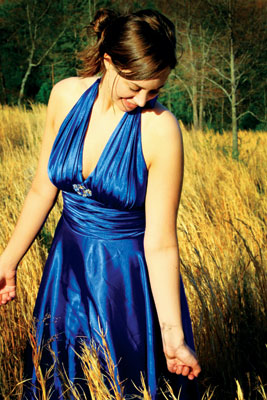 © Michelle B., Blairsville, GA