Delicate
December 15, 2008
The way his cheeks blush, and his eyes probe. The rhythm of his steps, the smooth skin shaping around his muscles -- his delicate, tapering fingers that liven my nerves, as if the blood burning through his veins is provoking my very own flesh -- the endless green earth reflects in his eye's smolder. The shape of his mouth is as tender, as smooth as satin -- how his arms fall, how his thumb gently rubs the veins along his knuckles. My heart fumes, fiercely thrumming in my ribs at the spark of his eyes -- the elements of all warmth throbs in the stillness of the air.

I vision billows of sweet breath seething warmth to my lips -- whispers that excite my nerves that beat ferociously within my kiss. His skin feels golden with the haze it projects on my surface. My lips part; he murmurs along my neck, raising goose-bumps at the gentleness he accesses. His fingers coil in mine, resting them at my waist. I lay my head on your shoulder, and breathe deeply the intimate essence evoked by moment.

"Feel," he murmurs.

My eyes gaze into his, their shade inviting. He presses my thumb gently to his throbbing pulse; I feel the pressure of his thumb above mine. His eyes begin to soften as he tries to find the strength to speak. I bask in the light glowing in the core of his eyes.

I feel his breath steamy in my hair. His lips kiss my face, as my mind drifts at the pressure at my temples.

For a last time, his eyes dart to mine, and I feel the pulse of penetration -- their color as pure and new as the dew of earth, their heartbeat as fierce and powerful as the blazing sun.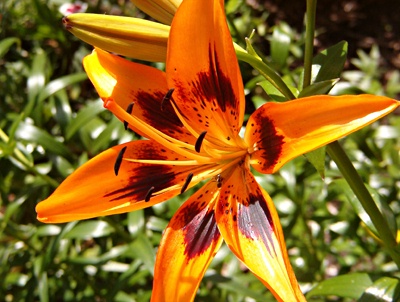 © Terrin C., Humboldt, IA