My miracle angel
April 2, 2009
I was 7 minutes from home when…it happened. It was Ryan's and I's second anniversary and I was driving home when I smelt the smoke. When the smell reached my nostrils I felt a tinge of fear fill around me like it was suffocating me. At that moment I was suddenly very aware of everything. Had there been a fire truck that past me just a minute ago? Was there a flame in the direction of our neighborhood?

I pondered these questions for a few short moments and that's when I started praying. I prayed to God that it wasn't Ryan and it wasn't our house. And then I prayed to God that if it was our house please let Ryan be safe. Just God please, let him be safe. Please, oh Lord, let HIM be alright. I prayed the whole seven minutes back to our house not even noticing the other cars or even anything other than my prayers.

When I reached the entrance of our little subdivision my last shred of hope was torn to pieces. There it was. Our house completely destroyed. The flames were bright like the sun and were dancing everywhere. I could see that the roof was collapsed over our bedroom. The firefighters had three hoses on the burning house and the fire was still stronger. I was still praying that Ryan was okay, but I knew that he wasn't.

All the neighbors, Sharon, Ted, Greg, Denise, Cathy and many others, were watching as my home crumbled more and more. I ran out my car not even bothering to take the keys out.

"Did Ryan get out? Did he? Please tell me he got out." I yelled at the crowd. Everyone seemed so consumed by the flames that it took them a few seconds to even recognize I was there.

It was Sharon who was the first to talk. "No one walked out Melissa. It was an explosion. There was no way any one could walk out. We just hoped that Ryan was out with you and you two took your Honda." She spoke her voice obviously on the break of cracking. "I'm so sorry. I don't. I can't say how. Oh my God, Ryan was so young and. He just can't be gone." Sharon said now on the verge of bawling.

I listened, but after I heard that he was dead my mind raced. I thought of our first date, our first kiss, the first time we made love, our wedding, and his little18 week year old baby boy in me. I couldn't think that he would never hold me in his arms again or that I'll never taste his lips again. Or that his little son will never have a dad to teach him how to shoot a basketball. I couldn't accept it. My whole vision blurred. The burning house became a distant thing and I could feel my knees buckle under. Suddenly I heard a screaming noise and I fell. I fell to the ground and my eyes shut closed.





That was two months ago and the pain from losing him still hasn't gone away. The pain feels like the burning feeling you get when your body gets into a hot tub for the first few moments, but my body isn't adjusting to the burn. Every second of every day I feel that same rippling pain.

I haven't done anything other than go to doctor's since he died. Since our house was completely annihilated from the gas leak explosion I've been staying at Beth's, she was my college roommate and we've been beast friends ever since. Ryan was the one to introduce Beth to her husband Jake, Ryan and Jake have been close buddies since high school. Well I guess not anymore since Ryan is…gone.

I still can't believe he is gone. And I still can't bear that if I was 7 minutes quicker I would be with him. That's what I have been hoping; that these past two months have just been a dream and I really am dead. I just wish I died with him that day. I don't care that our unborn son would be dead too, life just isn't the same or even possible with Ryan gone from this world.

Hope is all I can do because I can't pray anymore. There can't be a God that allows someone so perfect and gentle to be taken away from me. How could there be a God that allowed him to die so painfully and so young. There is no way God exists because if he did Ryan would still be with me.

I woke up in the middle of the night one day because I felt like there was some way Ryan was near me. I swore I could smell his cologne and here his voice. Then I got out of bed and searched the house hoping that maybe he was there, but my hope was again torn to shreds.

Again the same thing happened the next night. And the next and the next night. And again I found nothing other than maybe I was insane.

Then on the seventh night I woke up, but this time when I lifted open my eyes I saw him. It was really him. I saw his gentle blue eyes, his sweet comforting smile and his cute little dimple chin.

"Ryan, Oh Ryan, I missed you so much. I couldn't believe you were dead. But what happened. Oh I don't care I just love you so much and I am so." I sputtered out in joy

"Shhh, I love you too. But I am dead, love." Ryan said in his tender loving voice that I had missed for months.
I was so overjoyed to see him that I didn't even notice that he was glowing. There was a gold light coming from his soft skin. It was like a million little lights were on him.

"You can't be dead. But if you are then how are you here? Why are you here?" I cried still hoping that he was lying or that I was dead and he was breaking the news to me.

"Melissa I can't tell you how hard it is to see you like this, but I died in the fire. And well now I am an angel. I came here the past six nights to get you ready for when I would actually talk to you. I know that you have stopped praying and believing so I needed you to get some faith again because I was afraid if I just came that you wouldn't listen to me or believe what I'm about to tell you." He said in a very calming voice, but plainly nervous about what he had to tell me.

I thought hard about what he had just said. How could he be an angel and why didn't he just come to me from the beginning and why did he wait 2 months before he even showed up at all? I was just so mystified. It took me a few seconds to respond.

"Ryan, why did you leave me and why did you take so long to come and see me, if you are an angel? Why now and please tell me that I died and you're taking me back with you." I pleaded and asked just waiting for the good news that I was dead.

He hesitated for a few seconds and then he replied "Please stop because that is exactly why I am here. And I am not here because you are dead, but because you will be dead if you don't listen to me. I came here because if I didn't you were going to kill yourself. Also to answer your question why I waited so long it was because I didn't know what to say. I didn't know how to stop you from killing yourself and our son.'

"You have to know that I love you and I always will, but you have to keep living your life. I know you have been asking yourself why you didn't die and why couldn't you have been seven minutes faster and the reason is because you have to bring our little guy into the world. It was my time except it wasn't yours or his. And you have to know that I'm not the only reason for living. There is more to this world for you and you need to know that that pain you feel will fade away. That pain will go away and you will be able to live your life. You will go on without me and you will raise our son to be a great person. I would even love for you to find someone else. I know you probably won't because you are so stubborn, but you need to know that watching you like this is hurting me even more than you could possibly believe. You barely eat, you don't even talk you just cry and cry. Everything you say just answers questions and most of the time those are just sounds. I have kept count and you only said a hundred and forty-three words in two months, in two months. Please you don't know how bad it would hurt me if you took your own life and our son's. You need to be strong and please don't make me the reason for your death. Also please don't stop believing in God because I died. It was my time it was what needed to happen. I just want you to please promise me that you will try. Promise?" He said with so much concern and love that I thought he was going to get down on his knees and beg.

I reflected on what he said and I thought I would never kill myself and I would never kill my little baby. And then I thought there was no way this pain could ever lessen. How could he expect that I would just forget him and find someone else! It was just so illogical. Why would he think I would be able to just go on like he never existed?

"Even if you didn't come here I wouldn't have killed myself. Also you expecting me to get up every morning and go on like you never died would just be impossible. That pain hasn't decreased at all since you died and I don't believe it ever will." I firmly said. I was still hurt by what he said. My mind still couldn't wrap his words around.

His eyes got very sorrowful and hurt almost like I actually caused him physical pain. "Please, just listen to me because I am not lying. If there is one thing you could do for me is just trust me and promise to try to go on normally. I will be watching you and I only want you to be happy. There is no way I would leave you if I didn't know that your life will go on without me. This is my last request of you, so now do you promise?"

I listened and although I wanted to argue I knew that there was only one option. "I promise." I said as one hot tear slid down my cheek.

"Thank you. I love you. Please just remember what I told you. I will see you again. It will be a while, but that is how it is suppose to be. Remember I love you and please tell our son that I love him. I will be watching you from above." He said while catching the tear from my cheek.

"Ryan, I love you. No one will love as much as I love you. Never forget that and I will try I promise. You are the only person that can make me feel this way.'

"Will you kiss me one last time before you leave?" I asked just wanting one more moment with him because the next time I would see him would be when I had past on too.

Then he stepped forward and took his two soft and hands and put one on each side of my face. We stared into each other's eyes for a moment and then our lips pressed against each other. It felt so good just tasting his lips again and feeling the connection between the two of us. I felt complete with his lips pressed to mine.

Then he was gone.

"I love you." He said somehow even though he was gone from the room.

"I love you too." I whispered back.


That was fifty-six years ago and I was thirty-one. I named our boy Michael after the angel of miracles because it was a miracle that kept me away from the fire and a miracle that brought Ryan back to me for those few amazing minutes. Ryan was right when he said that Michael would grow up to be a great person because he became a loving and compassionate man that dedicated his time to helping the poor. He has raised seven hundred million dollars so far and is still counting. I died yesterday and now I am with Ryan just like he said we would. And no one has loved as much as we love each other.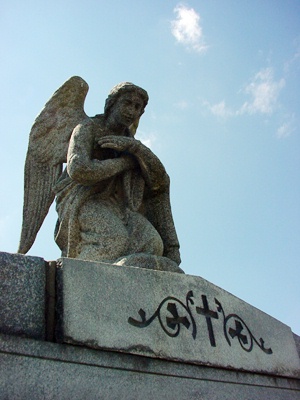 © Greg K., New Lenox, IL