A Piece of the Moon
September 28, 2018
I remember the day. It was December 31th, 1999 and it was the end of the world. But let me back track. It was December 29th 1999 and my parents, my brother Gerald, and I were putting the Christmas decorations away. School was starting up on the 4th of the new year and we knew if it wasn't going down now, it was going to stay up the entire year. My parents were in charge of the tree while Gerald and I were supposed to take care of the stockings and the other extra decor we happen to have out. I was making my way down the stairs into the basement of our New York City three story apartment (my dad was stupid rich) when I heard loud screaming outside. I was extremely agitated because it was so crazy hectic in my home with my parents screaming at Gerald for spilling the milk on our stockings(of course) and know there was screaming in the alleyway next door. Of course I knew exactly who was screaming because this wasn't the first time I had heard the screaming outside. It was Crazy Jean. Jean was the homeless man with a hairless cat and he made a literal house out of boxes. Like the windows and doors the whole bit. Anywho he was nuts. He was always screaming, "God's gonna throw a rock at us! We need to go!" I would have believed him. But he was addicted to the cocaine and I don't think it would be my smartest idea to trust a high man who lives in a box house. Now the day was December 31th, 1999. The Christmas decorations were all put up and I was sitting on the grey sectional in the living room. We had put up some new decorations for our New Year's Eve Party that was tonight. My dad came down the stairs and said, "Hey Jamie can you help me take the garbage out?"
"I guess," I said knowing he wouldn't ask again.
We walked out there and Crazy Jean was scavenging for food in the garbage.
My dad screamed at him, "Get away from there you drugged up idiot!" then he threw the recycled bottles of beer(he drinks every night) at Crazy Jean and I just stood there behind my dad as he tortured this poor(but also crazy) man. He walked over to me and he told me, "Jamie, don't ever associate yourself with bad people like him. You hear me?"
Of course I said yes but all I could help thinking was why? I knew Jean was nuts but he never hurt anyone. So what could be so bad?
By now it was five o'clock, still December 31, 1999 and people were starting to show up for the New Year's Eve party. My parents were in their room and Gerald was in his room watching football. I was in my room eating my Nerds Gerald had gave me for Christmas and watching the Christmas episode of "Even Stevens" on Disney Channel. I saw my Grandmother's car out the window pulling into the parallel parking spot by our apartment. I went across the hall over to my brother's room and we ran down to the front door to greet our grandma. My parents followed and started setting the table with leftover Christmas cookies and my mom's amazing banana bread covered in nutella. So more and more faces of my family started showing up with their dish to pass and we would eat and eat and eat. Most of the food was gone by midnight but we still had to eat up a little more. This was our New Year's Tradition. We would all meet up at my house or my Aunt Janice's house and bring all of our leftovers from Christmas with us. No cookie could be left unturned. Everything had to be eaten before the beginning of the New Year.
By now it was 11:59 December 31, 1999 and we had just minute before the beginning of the new year. We sat on the sectional and watched the Dick Clark's Rockin' New Year's Eve show And then BOOM! We heard a loud noise out in the alley and our power just blacked out. My dad ran out there and the family followed but there was nothing it was darkness lingering in the alley way. However while I was looking down the narrow passage a could see something shining and shimmering. It was absolutely strange so we went back inside and sat in the darkness. There was only one thing working now and it was the alarm clock on the kitchen counter. We sat in the silence of the cold ebony air and then the alarm clock starting ringing off as if it was a warning call. But that wasn't it. Then, at the last stroke of midnight it came. A shooting star that was shooting at us. It came down colliding into our three story apartment and desiccating my whole street. I layed there in the rumble of my home and looked all over for my family hoping they would appear from behind me but they didn't, none of them did. As I looked around for any survivors I realized that I was shouting but I could not hear anything besides a slight ringing, something similar to a bee buzzing. But the buzzing would get louder and Louder and LOUDER until it was silent. No ringing, no noise, no nothing, just blackness. So I sat for a second and cried about the death in the air and on the ground that was placed in front of me. And then I heard something. I felt it too. I was shaking uncontrollably and behind me there it stood the massive water tower that was behind our apartment complex off its hinges. I didn't move. I sat and waited for it to fall. And that it did. But as it fell I heard someone screaming, "Get out of the way!"
I still didn't move I just shut my eyes and waited for my death to come. But it didn't. I heard a crash in the rubble far away and felt water gush over me but I was not dead. I was in the arms of a homeless man my family had always called Crazy Jean. Crazy Jean was right God threw a rock at us. A very big rock. Then Crazy Jean threw me on his back as if it he was the little rocking horse at the store down that used to be down street. He started running toward a car and totally hijacked it. He tossed me in the passenger seat and hopped in the driver's seat and we hightailed it out of that dusty divot and in the woods on the other side of the state. We drove in silence for about an hour and then I broke it.
"I'm sorry Jean. For everything," I sobbed.
"For what?" Jean asked.
"For my dad. He shouldn't have talked down to you like that. I'm just so sorry Jean," I said with my heavy heart.
Jean replied with, "Jamie, you never said any of those things to me and sometimes a man regret the words he says and it's hard for those words to be taken back. But you did nothing to harm me in any way."
He patted me on the head and we continued to drive into the unknown obis of darkness.
Then I asked, "Jean what was that back there? The giant rock?"
"That back there was a piece of the moon."
I rolled down my window and there it was. As I gazed at the bright starry sky I saw it. A broken moon.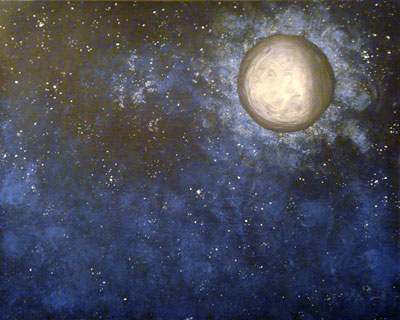 © Allison H., Vancouver, WA