Moonlight Chapter 2.
September 27, 2009
*Chapter 2.Neighbors*
He stared at me while I gawked at him. He was absolutely flawless. He was like an angel sent from the heavens.

He had pallid skin and dark, jet black hair- it was combed to the sides, away from his ice blue eyes, in a neat hairdo.

He had a lean muscular build, and looked about five to seven years older than me.

"I-uh" I started to stutter.

"May I help you young lady?" He began to ask- his voice was like a low clear bell.

"I-I just wanted to welcome you to the ne-neighborhood. My name's Natalie Roze and I live right next door." I held out my hand to shake his hand.

"Well hello, Natalie," he smiled, shaking my hand gently. His hand felt like any other object that I have ever touched, though a slight buzz prickled my skin where our hands met- I paid no attention to it. "My name is Levi Smith. My nephew, Ethan, is in the other room," He paused to call Ethan, and out of nowhere, Ethan suddenly stood next to him.

Ethan had dark, jet black hair that was tangled and disheveled from running; his side bangs partially covered his left eye. His eyes were emerald green and had sparkled in the light, and underneath them were light purple bruises- he looked as if he needed to sleep. His pallid skin was in great difference to his dark hair.

His slightly muscular build shown through the light green, long-sleeved, collared shirt that he had on.

Though his face was simply angelic, it wore an angry expression that made me flinch.

"Hello." Ethan murmured- his voice was small but you could still hear the harmonic tones in it, his tone matched his expression.

"H-hi." I stammered nervously, I held my hand to shake his.

A moment's hesitation passed but then he reluctantly stuck his hand out.

I shook his hand in welcome. His hand felt exactly like Levi's hand, down to the slight buzz that I felt.

I looked up and found that his face wore a puzzled expression now- as if he expected another reaction from me.

He slowly removed his hand from mine. He eyes dropped to the ground, trying to figure out something, and then softly whispered- so quiet, I knew it wasn't meant for me to hear- "Not the same,"

Levi cleared his throat in a subtle manner. Ethan's eyes snapped forward.

"Um…I should get going now," I managed to break away from Ethan's inquisitive glare. "My friend's waiting for me."

"Well, it was nice to be of your acquaintance, Natalie," Levi smiled his brilliant smile again.

"Same here," I returned the smile.

I turned to leave when a strange curiosity tugged at the edges of my mind, a curiosity that was hard to explain, but strong enough to blurt out my next words before actually thinking about it.

"Um, my friend and I were gonna hit the Mt. Higgins Trail, if you'd like you can join us, Ethan," I offered brainlessly.

"Uhh..." It seemed as if I took him by surprise by inviting him.

"It'll be fun, and I'll even introduce you to some of the people in this town,"

"I'm not sure-" He tentatively spoke softly.

"I don't think Ethan will be able to join you, Natalie," Levi interrupted.

"Well, if you really don't want to…I better get out of your hair," I retreated glumly.

"Wait, Natalie…" He blurted out, "I'll join you since you insist..." He murmured in defeat.

I grinned in exultance, "I promise it'll be fun, just make sure you wear a thick jacket and some boots. I hear it's cold up there," I instructed him, he made a weird face when I said 'hear'.

"Fine, I need to grab my jacket real quick, so I'll meet you by your jeep,"

Right before I turned around, I caught a glimpse of Levi giving Ethan a threatening stare.

"She's not the same…And you can not control my decisions..." I heard Ethan whisper viciously back at him while I walked away.

"I just hope you make the right decisions..." Levi snapped.

Weird.

I met Jason at his jeep.

"What took you so long?" He asked me.

"I was greeting my new neighbors,"

"Neighbors?" He turned to look at the house next to mine. "Oh…How were they like?"

"They were nice, but they look different," I emphasized the word 'different'.

He picked that up, "Different?"

"Just wait, you'll see. One of them is gonna join us right now. That's ok with you, right? He just had to grab a jacket,"

"Yeah, sure,"

Ethan joined us after a couple of seconds afterwards. He wore a black leather jacket.

"You were right," Jason whispered as he took a good, long look at Ethan.

"Jason Yullie," Jason held his hand out towards Ethan.

"Ethan Smith," He shook Jason's hand, right when their hands touched, Jason suddenly jolted-a tiny smile pulled at the corners of Ethan's lips in response.

"You guys ready to go?" I asked when their hands locked with a bit too much force.

They broke apart- Jason subtly rubbed his hands together while Ethan jumped into the back seat.

"His hands feel like ice," Jason murmured in my ear before he got in the drivers seat.

"Oh...I didn't notice…" I whispered back.

Was that the reaction Ethan expected from me earlier?

I jumped in the back and joined Ethan. I kept my hands to myself; I didn't want Ethan to think I was a freak because of my disorder.

"How old are you, Natalie?" He asked me when we got on the road.

"Sixteen, but I'm turning seventeen next month. You?"

"Um…Seventeen." He answered in his soft, shy voice.

"Oh, so are you gonna attend Darrington next year?"

"Yeah,"

"Cool, I might get to have the same classes with you." I didn't think it was that great since I usually don't allow people to get to know me too much since I knew they'd find a way to be disgusted with me- with the exception of Jason and his younger brother Josh.

"Yeah,"

It got quiet afterwards, and Ethan seemed to be interested to what was going on outside rather than listening to Jason and I talk.

We finally arrived at the Mt. Higgins trail.

"Jason, STOP!" I screeched.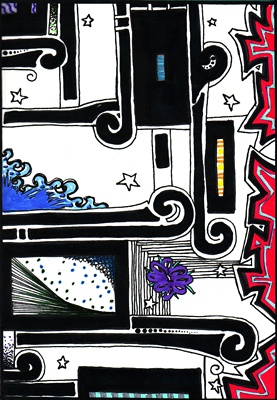 © Jessica D., Burke, VA