Risen Moonlight
December 17, 2009
Her deep violet eyes pierced through me like a double-edged knife.
I took in a quick breath.
Of course she noticed.
Her ink black hair swayed with every graceful movement she portrayed.
"Why aren't you afraid, Andrea?"
The way she said my name. Her exotic, soft voice made it sound foreign to me. Like I wasn't it's owner.
Therefore, it took me a good three minutes to answer her simple question.
How could I be afraid of something so undeniably stunning? So breathtaking, you had to get a second look within a one-look-needed glance.
Elena wasn't extremely patient.
"Everyone here fears us. And THEY don't even know what we really are."
I shook my head unthinkingly. I couldn't tell if it was because I knew not everyone here at Eagleside was afraid of the Russo's. Or just because Elena was comparing me to all the narrow-minded, conceited, ignorant, naive idiots at this school.
"Guess I'm not everyone," I muttered. My voice sounded thicker, like it had a different color to it.
For the first time, Elena seemed caught off her strong guard. "People are afraid of what they don't understand. You seem like a quick-witted girl. Clever. Please don't prove me wrong."
That, in a way, stung. I knew what I was doing.
I knew what being here talking to the mysterious beauty could cost me.
Exchanged glares, whispers, moronic gossip.
But there were more important things. I understood how much was at stake. Well, I imagined.
"Okay. But it's not as easy as it may sound," I said, carefully letting my own words register in my contorted brain.
Her especially bold irises penetrated such an ominous glare, while I gathered all the times I thought she couldn't be closer to genuine.
"I'm not as close as you think," she said through half-gritted teeth.
I pretty much lost my footing. The sky blue colored walls looked as if they were of crystalline material. The edges of my vision seemed fuzzed with a mixture of deep green, blue, and a bold purple that reminded me of the big, well-rounded eyes making contact with mine in front of me.
"How the he-how'd you do that?" I asked. I wasn't even sure if I'd said anything at all. I couldn't hear my voice.
Notoriously persuasive Elena had her motivating eyes directed at her feet.
She held up a milk-skinned hand, as if to surrender-which goes against her reputation.
Lane watched my eyes carefully, seeming as if to search for some kind of hidden fear or distress, but I didn't give her the time of day to locate it.
"How do you suppose?" She finally countered. Her violet-blues just basked in their frame of extremely delicate, long black lashes.
I'm not one for calculating the words that come out of my mouth. In other words, I just admitted the first assumptions that appeared distinctly in my mind.
"Psychic. Genie. Mind-reader."
Her eyes seemed to shift into a type of pride when the last accusation was mentioned.
I felt like my stomach wasn't inside me anymore. Just a huge gaping hole awaiting more blows.
"Is- I swallowed hard. "Anyway to get you the hell out of my head?"
Surprisingly, Elena smiled. Laughed even.
"You're smart. You'll figure it out. I mean, I have to say, you haven't passed out yet. Of course, you looked pretty close about a minute ago," She announced with an obnoxious grin.
"No, maybe not. But I have to say, I never, not once, thought you were normal," I countered. I admitted to the very center of my brain that I was using emulation toward Lane. I didn't know why I felt the need to.
Her grin grew smaller, but anyone who really looked was capable of seeing that the visible pieces would be implanted on her face for the rest of the day.
"Guess it's finally time for you to formally meet the others."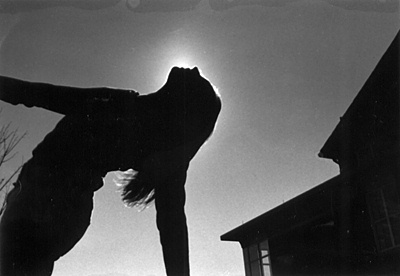 © Alexandra B., Marblehead, MA