The Colored Room
February 17, 2010
I smiled as the sun warmed my face. I had seen the world, but out of all the places I've been, Germany, Italy, Peru, Africa, and various other places, never had I seen one quite like this. It was amazing, something I couldn't quite fathom; like a dream that appears, then just as quickly is gone. You know that feeling you sometimes get deep down? The feeling you get when things are perfect, if only for a moment. Love? Was it? I didn't know, but whatever it was it was incredible.

This is the way this room made me feel. Like I was untouchable, like no matter what, it could never be taken from me. The colored room. The colored room. The colored room. Everywhere I looked there were different things. Some, my past, others what I hoped would be my future.

"Who's that?" I asked aloud to the room. Of course, it couldn't answer me back. I hadn't expected it too. I walked up to the farthest wall and looked into the face of a boy so beautiful, it made my heart race. Was I looking at my future? I hoped so.

Suddenly, in midst of all the colors, another face appeared, my mother? I thought so, but she was ill, lying on a bed with sweat covering her face. Just as fast as it had appeared it was gone. She was dying, I was almost positive.

"Mom," I heard, and looked over to a different wall. I saw a small girl, who was identical to me, at first I thought it was my past, and then a girl appeared, me. I was older, more mature, but it was me. Me and my daughter, it must have been ten years in the future. And that was the last thing I saw, before the room went black, the last thing in the colored room.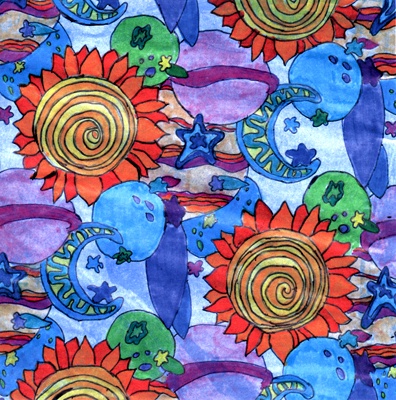 © Jeanne H., Pembroke, MA