Society's End
April 27, 2010
Artificial sunlight was streaming through the windows as I looked out over the seemingly infinite rows of cases covered with green canvases. I ran down the stairs and began throwing the sheets off. I looked at each of the green-eyed faces below the glass. Even though the electricity had been terminated and they were living on an ancient back-up generator, they looked so peaceful. The monitors attached hummed with diminishing life as the generator ran out of power.
As I progressed my way through the first row, I saw a girl who I thought looked familiar, which could be true. I could have seen her when I had been living in The Society a year ago, before I turned eighteen, a legal adult. I still remember the day that Arsennick, my brother, and I had first arrived.
"The new OVCs are here," the clerk had said, ushering us into a large office. I didn't want to be there. But then again, who would? I didn't ponder this question because the man behind the desk began speaking.
"We are very sorry about the loss of your parents, and you will stay at The Society until-"
"The Society? Don't you mean the orphanage?" I cut in, questioning.
"Some of our, shall I say, touchier, tenants prefer we call it this." He chose his words carefully. "We will put you, Arsennick, up for adoption later this week. However, that has no effect on you." He directed this last comment at me. "Your birthday is in three months and you'll turn eighteen." It was true; I had been expecting to celebrate my birthday with my family and a few of my close friends.
Even then, I had noticed that The Society was not doing well under the economic conditions. The walls flickered a little if you looked at them long enough, causing the electronic wallpaper to shudder. In some places, it was gone altogether.
I drew myself back to the present. I realized my hand was hovering above the "Release" button. As I stared at the face I was certain I had seen around the orphanage, I decided that I would come back after I found my brother. If I released her now, it would take time I might not have. I yanked my hand back and moved on.
As I continued down the row, I looked out over the others. How could someone put all of these children away in a remote room? I couldn't lose my brother to this place. I shook my head and moved on, remembering the day just a few months ago when I was told that my parents had died in a horrible accident.
"Excuse me boys, I hope you don't mind me cutting in here," Mr. Philips, our parents' lawyer had interjected as Arsennick and I were arguing over who got to select the Xperience to watch on the Portable Holographic Portal. Our argument seemed important at the time, a battle for power. But just a few minutes later, it seemed insignificant. Mr. Philips had bent down and turned it off by placing the cover slip over it, forcing us to direct our attention to what he had to say.
"The Tube transporting your parents to Puerto Rico shattered as their pod moved through, and they fell through to the deep ocean where the pressure crushed them." He had such a grave look on his face that I didn't dare to doubt him. This all seemed like some sort of sick joke. I couldn't accept the fact that they, who had seemed so strong, died in an accident like this. "I'm very sorry for you both, but it may at least help you to know that they did not suffer." The silence filled the room.
I glanced up and realized I had only been through ten of the lines. I made a mental note to go more rapidly. Whenever I closed my eyes I saw the word "Faster" glowing on my eyelids, the same way lights do when you stare at them for too long. The new BrainScan that I had saved my money for worked well. Shortly after leaving The Society, I had taken up a job at the Zip Chip, where I programmed Chips for people to put into their Bots at their homes. Though I had inherited money from my parents, I was determined not to touch it until I had Arsennick back.
I checked the time in the upper right hand corner of my vision. 20:49. I had until 21:00 to find Arsennick before the entire system would crash; making these cases their tombs. Concurrently, a Security Bot would come and sweep me out of the room under its arms. I had only disconnected the Zip Chip from the current one, and all too soon a new Security Bot would come to allow it to recharge.
If Arsennick was to leave with me, I had eleven minutes to find and release him.
I peered into the casket-like case of yet another orphan, my hope waning with the time. It appeared to me that all of the orphans were remarkably similar, which made sense because many of them were probably DesignerBabies. They had black hair and green eyes, the style of last decade.
My parents had hated the concept of DesignerBabies. They refused to even check if Arsennick was going to be a boy or a girl when I was five years old. This was also a big topic of discussion when we found out that he had ADD. My parents were fine with it. They were sure they wanted to raise him no matter how he came out, whereas my parents' friends had been irate that they would do such a thing. He wasn't the only one they would criticize, they used to look at me and scoff at my big nose and mud colored eyes. They said I was the most grotesque child they had seen in a long time.
My parents had no reaction to this, choosing to pretend it hadn't been said.
I grinned at the memory of them, thinking how proud they both would have been seeing me stand up for Arsennick and myself.
Then I blinked. Faster. The smile disappeared and I began sprinting between the cases. Their green eyes were staring at me blankly. It pained me to know that I hadn't been able to stop Arsennick from being put in here.
During one of my weekly visits to see Arsennick, I had found out that The Society was in a financial crisis by reading the Infopanel at the front desk. It scrolled, informing readers that the orphans were going to be put into suspended animation on September 20, 2047, one month later.
I then slammed through the doors of main office. I barely even noticed the walls were completely white, not even a flicker of what had been there before. I quickly searched for the clerk, but I couldn't see her anywhere, so I let myself into the benefactor's office and found him using the obsolete touch screen computer at his desk.
"Ah, Brokk. I am sorry about your brother. But, due to his condition, I doubt that anyone would have adopted him anyway," he said nervously, searching my face for any sign of anger.
"What condition? Do you mean his ADD?" I asked, upset.
"Precisely. Anyway, due to the overpopulation in the Western Hemisphere, I doubt anyone would want a child any time soon. I would be immensely surprised if anyone was adopted. Adoption rates in the last ten years have dropped to less than two percent."
"That may be, but Arsennick is my brother. He deserves better than this."
"Ah, that's why this is a tricky situation. You are his immediate family, so you should have the right to care for him. However, you aren't old enough to legally be his guardian, and I don't want a lawsuit on my hands." He looked apologetic.
"Apparently you don't want a bunch of orphans either!" I hissed furiously.
"I'm sorry, I just can't do this." He brushed past me on his way out the door.
Again, I checked the time. 20:59. I rushed through the next row of cases until I heard the bang of the door being slammed against the wall. I was wrong. The relief Bot must have come early and now I was out of time. I threw off the cover of the case in front of me, but to no avail.
I continued down the row to the second to last case. The Security Bot was almost upon me. I slid off the cover and nearly cried out with elation as I realized it was my brother. The hundreds of cases on both sides and even the Security Bot turning the corner into the aisle faded into the background as I placed my shaking hand on the Release button and the clock ticked up one number, 21:00.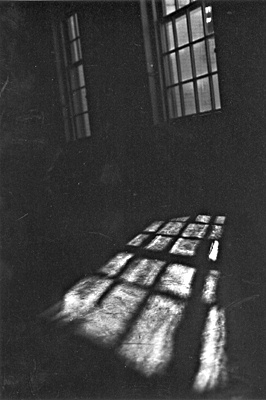 © Mary A., Fullerton, CA