I Believed Him
June 29, 2010
I believed him when he said that he loved me. I believed him when he said he couldn't live without me. And when we had those romantic dates, he always made me feel special. But that didn't last long.
After a while he got sick of me. He didn't treat me right and he never said those romantic things again. He avoided me, barely spoke to me and when he needed something it was usually for pleasure and not out of love.
I hated what was becoming of him. He wasn't that sweet, caring person I fell in love with from the beginning. He had become a monster, like some sort of machine with no heart. I was just an item to him. A thing he could show off to his friends
I had enough of this. He had no right to treat me like that. So one day I invited him over to my house. I told him that it was over and that I didn't want to see him again. He got angry and pushed me against the wall. He told me that if I left him that he would kill me. After he left I cried so hard I nearly pasted out. The next day I decided to do something I would regret. I kissed another boy in front of him. I just wanted him to see for himself that we were over and done with.
I avoided him for the whole day. It was the end of school and I began to walk home. It was raining so I took the short cut that crossed into a little forest. I was half way home when I felt a hand on my shoulder. I hoped it wasn't him, I prayed. He put his hand around my neck. He came closer.
"If I can't have you no one can" Something dug into my neck and I screamed in horror.
The next thing I knew I was back home in my bed. Something didn't feel right. I looked at myself in the mirror. I looked ice cold but I couldn't feel it. I realised what he had made me into.
The next day he had left town and no one knew why. People thought that he may had got into trouble with the police or I had something to do with his disappearance.
Now I live with eternal pain with a heart that doesn't beat and a life that has know meaning.
?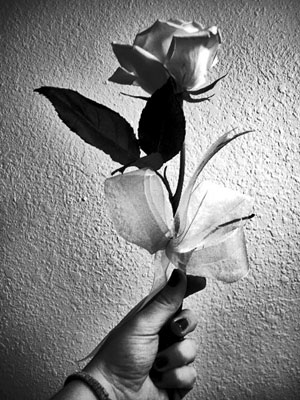 © Lauren R., Edmond, OK