Waiting For A Train
August 9, 2010
"You're waiting for a train."
The familiar words pounded through my head as I stood in the rain next to the tracks.
"You know where you hope this train will take you."
Aside from the voice, I heard a faint roar in the distance.
"But you don't know for sure."
Pebbles began to rattle at my feet, the roar growing louder.
The rain poured down harder, if that was even possible.
The voice in my head didn't speak again. Nervous, I fingered the small knife in my pocket as the train drew closer still.
Realizing the voice was not going to finish what it had started, I spoke aloud.
"But it dosen't matter."
My voice sounded alien to me, strange after the sounds around me.
My tears mingled with the rain on my face as I stepped onto the tracks, facing the oncoming train.
I knew I was alone. No one could save me from this, and I knew no one would, anyway.
I knew the last four words were a lie. Where I was going I would be alone forever.
"It dosen't matter," I told myself as the train barreled closer.
"Because you'll be together."
My head whipped around to stare at the speaker.
My best friend Logan was standing there, hair plastered to his face in the downpour, flushed, out of breath.
I wondered how long he'd been running to find me as the train's whistle blared.
He shook his head.
"Don't do this," he said.
Tears were still running down my face as rocks began jumping on the tracks, the huge metal beast shaking the ground.
I don't know how it happened, but I leapt off the tracks and he was hugging me, both of us drenched to the bone as the train whipped past, its whistle fading into the distance.
On the back of the caboose, a man was standing, the first person I had seen here besides Logan.
He looked oddly familiar, but I didn't know where from.
He waved, then the train disappeared.
Logan was still hugging me so tight I couldn't breathe. Thunder crashed above us, and then the ground simply vanished.
Plummeting down through the darkness, I closed my eyes in terror.
----------------
I instantly jerked awake.
I was in my room, hyperventilating and shaking from the feeling of falling.
I couldn't remember anything from the dream except the words.
Something about a train. A guy in a red t-shirt saving my life. My best friend.
I shook my head slowly.
"Logan," I whispered.
I picked up the phone and dialed a number I had called maybe millions of times.
It rang once.
I remembered a man waving to me.
It rang a second time.
I knew him from somewhere.
The phone rang a third time.
And then it hit me. What idea had he given me?
The phone rang a fourth time.
"Hello?"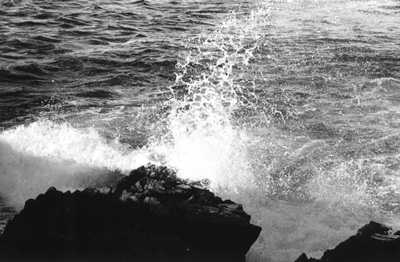 © Shira B., Marblehead, MA