Condemnation
July 18, 2011
Dropping the now-withered willow twig, I headed out of the field, the grains of magic still swirling in the air behind me. The rows upon rows of wheat that surrounded me let out a sigh of relief as the much-needed sustenance entered their stalks. Reaching the last row, I stepped out, catching a fleeting glimpse of someone's pigtail as it turned the corner of the shed a few meters away. Hitching up my dress, I sprinted, they couldn't have seen!
As I turned the corner onto the country road I saw a horse galloping quickly, the rider clutching something in her hand. She turned, caught my eye, and with a look of terror, tore away.
Heart racing, blood rushing, I dug into my satchel, desperate to find another willow twig. I knew that girl. It was Anne. No older than 13, she would be sure to tell someone about it. Finally grasping the extra, I thanked my lucky stars that I had thought to bring it. I began to utter the words of a speed spell.
I was home before I knew it, frantically making preparations, the newly exhausted willow twig lying on my bed.
I scribbled a note with charcoal on a piece of paper telling my father my plans. The charcoal smeared when my first few tears dropped onto the paper. I was leaving my dad all alone. Ever since Mom died, our relationship had been much closer. I could hardly bare the thought of what he would have to go through to lose his last family member. Maybe, I thought hopefully, I could return once this had all blown over.
Signing my name, I shoved the note into the one place I could be sure that only he would find it, under the third loose floorboard in his room. I stashed it with our life savings. Grabbing my very last willow twig, I hastily replaced the board. Now I had to wait.
The first rock hit soon after. Wincing, I got up. Checking the twig in the deep folds of my dress, I glided fearfully to the door, opening it a crack and watched the scene unfold.
Soon, the first thrower had gathered several others and the rain of stones began to pick up frequency. After what seemed like ages, the priest showed up, followed closely by another figure I didn't recognize. When the last rock had fallen, I stepped out of the house, holding my breath and staying just outside the door, ready to flee at the first sign of violence.
"Miss Abigail, you have been charged by Anne Walker of practicing witchcraft, how do you respond to this?" The preacher asked amid the angry mob that was emitting hisses and shrieking insults.
"I'm innocent. I go to church every Sunday and pray every night!" I responded shrilly. Another tear slid down my face before lingering on my chin. It fell to the ground with a small splash.
"I would normally believe you, but this time, we have proof." He held out his hand to display one of my own willow twigs in his filthy grasp. I gasped. His mouth twitched upwards a little, and I knew my reaction had given me away. Anne must have taken it from where I buried it to bring good luck to the harvest.
Tears now streaming, the other man stepped forward and immediately I guessed who it was. It was Judge Picker.
"That's all the evidence I need. I condemn you to purification by drowning," Judge Picker said with bloodlust. The priest nodded as if he had anticipated this action. The crowd seemed to have expected this as well because they quickly handed forward several lengths of rope to tie around my hands and feet.
After being roughly shoved roughly onto a horse, I was tethered to the judge's. I knew beyond doubt that they wanted to get this over with before Father returned from our field on the other side of town so that he couldn't stop them. Besides, they needed the extra support that could be attained by claiming to have saved the city from a "menace" like me. Little did they know that I was the only reason any crops in this city grew in this infertile soil, or that I was the only reason that our childbirth death rates were so low.
We arrived at the lake shortly afterwards, murky water splashing fiercely along the shore. Mr. Walker, the owner, provided a boat. He glared at me, clearly showing his hatred.
The judge firmly lifted me over his shoulder and dropped me painfully into the boat. Holding back anger and contempt, I slid my hand into the folds in my dress and firmly grasped the willow with my hand, muttering a spell. We stopped when the crowd was little more than a speck on the shore. The priest jabbed me roughly, and forced me to stand. He dramatically waved his hands and said, "This is for your own good. You'll thank me in the afterlife." The whispers that were still escaping my lips had become nearly inaudible over the crashing of the waves. Not a moment too soon, I finished. He promptly threw me over the edge.
Sinking slowly, I felt the magic take action. I kicked off my shoes and forced the rope off of my ankles. I landed softly on the bottom and immediately started moving, the breath-holding charm would only last an hour, and I had a long distance to make up.
Emerging on the far side, I looked to the other shore to see no one. Smiling sadly, I found a sharp rock and set to work unbinding my hands. Upon finishing I set off to make a new life for myself, away from the world of my childhood. I would take my talents elsewhere, to improve others' lives instead. I would miss my old community. Not only did they condemn me, they condemned themselves.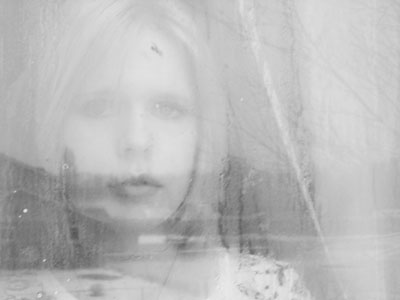 © Hannah S., Avondale, AZ