Looking Down
September 9, 2012
Here I am, sitting next to God. Although I hadn't planned on meeting him for many more years, heaven is almost worth dying for. Can you imagine a place with no worries? No needs or wants? Complete freedom? Heaven is the place humans have been striving to recreate on Earth for years. They have a long way to go. In fact, I doubt they'll ever get there.
The only thing missing from this wonderful place is my family. My friends. I already miss my mom so deeply that words can't say. But they'll be here soon enough.
I arrived in heaven on Wednesday this week. Three of Earth's days ago. It's felt like an hour. And already, I've met God. He says he needs to show me something. I figure he knows best. Suddenly, a bright flash blinds me for a moment.
It subsides, and I turn back to look. I see a large room with long benches, a podium, and a coffin. I see my mom. Friends. Acquaintances. Enemies. Many unnamed others. I'm in my church. My funeral must be about to begin. The only person that surprises me is him.
He's right there. Sitting in the back corner. No one talks to him. Why doesn't anyone talk to him? Please, someone. Just sit by him. That's all I ask. But he is only given an icy cold shoulder.
I hear the calm, soothing voice in my ear that I have come to know as God.
"Go on. You can see what everyone is thinking if you wish. This is your special moment."
I start with my mom. I am removed from the church scene into one that she had only told me about. I was a child, to her horror, mistaking an old lady's fox scarf for a cat in the grocery store. I watch, amused, at my mom's shocked face. Even Mom would find the humor in it later.
I leave her memory. Even more people have arrived. All come to shake my mom's and my best friend hand's and offer hugs. Lily was the closest person to family I'd ever known. After my mom's family found out she was pregnant with no idea about the father, we were left to help ourselves. But Lily always stayed true.
A single tear rolls down her face, and I wish I was there to wipe her eyes. I wish it with all my being. She hugs our math teacher, and I transport into her thoughts.
Lily and I are eating lunch. I recognize the cafeteria and her freckly, un-made-up face. 7th grade. Four years ago. I see another girl, Izzy. She approaches, and immediately, I know what's playing out. This was the first time I had seen Izzy pick on Lily. And it was the last time she ever did.
I go back to the funeral, and Lily is now freely crying and hugging my mom. I'm so glad they're there for each other. I look around, and find, of all people, Izzy has shown up. Her face is paler than ever, and her eyes are misting.
She's thinking of that day, too. That day from four years ago. She's thinking of how wrong her actions were. She's thinking of talking to Lily. Of apologizing. Of giving condolences. Of crying. Please, Izzy. Please go talk to Lily. Make things right.
I see her get up, and make her way over towards Lily and my mom. I smile.
He draws my attention again. The segregated loner in the back. The boy who took my life. Still, no one talks to him. Why?
The service begins, and Izzy approaches his empty bubble. She's the only person brave enough to sit by him. And I want to throw my arms around her and thank her a million times.
I don't have to look into his thoughts to know what he is thinking. He's thinking of that night. The night when he partied and drank more than a few beers with his friends. The night that he hopped back into his prize-possession: his carefully maintained 1958 baby blue convertible. The night when his baby, the thing he had saved years to buy and had put so many hours into, swerved off the road. He attempted to stop the car, but it was too late. The convertible spun onto the sidewalk, instantly killing me.
I forgive him. A million times over. Because I know he will never forgive himself. Because on that night, he killed his baby sister.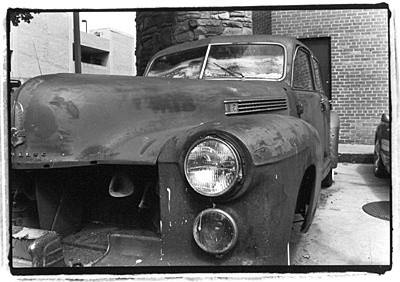 © Jessica T., Bethesda, MD