The Survivors
October 10, 2012
The sky was a display of mottled blue and purple bruises. Snowflakes clung to my eyelashes and dusted my raven black hair as the winter snow fell. I wrapped my oversized jumper tighter around myself, an attempt to keep out the biting wind. I gaze around at the rubble and crumbling skyscrapers that is New York City. I try to close my mind off to that terrible day, but the images flash through my mind in a torrent. I can still remember the sky going black with smoke and dust. I couldn't draw a breath. I was suffocating from the fumes, but some how I made it out. All the way through I kept hold of that soft, pudgy hand, but I let go too soon. I searched desperately and called his name till my voice broke, but he was gone.

"Next please," a voice breaks me out of my daze and I hurry forward. The man behind the sliding glass window of what used to be a ticket booth stares at me with irritated eyes.

"Name?" he asks

"Dawn Connelly," I reply quietly. He hands me a small bag filled with food and other survival necessities that is given to us every month, but I know for a fact that that small bag would not last a month. Clutching the bag tightly, I scurry off. The food truck comes once a month with large boxes of food from Washington. After the bombs that destroyed most of New York, all of us survivors gathered together and waited. Waited for people to bring us to a safe city or to help us rebuild our homes, but nobody came. For days we searched for missing people and scavenged for food, until finally a truck arrived carrying supplies.

The truck driver brought a message from the president. The message was short and to the point. The president said there was war going on between America and parts of Asia and Europe and there was no way to start making repairs on the city. He said we'd be safest here where no armies would attack. People had objected. I felt bad for the truck driver who received all the hate, but I couldn't bring myself to do anything about it because I felt that same hatred coursing through my blood.

Those first few weeks I was a ghost. All of my family was gone even my brother, Jeremy, who was only five. I see his face every time I close my eyes. During the bombing I lay on top of him to protect his fragile body and when it was finally over I held his hand tight, but I let go. And just like that he was ripped from me. I found his body days later, his ribs protruding from his skin and his eyes glazed over. I will never forgive myself for what happened.

In the midst of it all a sort of council had formed, ten people who made the decisions and divided up the food. Our old laws were thrown away and now we have a few guidelines to stick to. If you kill someone you're locked up in some of the surviving jail cells. You're not allowed to hoard food; all food must be delivered to a member of the council. Everybody breaks that rule though, even members of the council.

I've seen people killed just for one battered tin can of soup. It just shows what people are willing to do if they get desperate enough. Everyday, I see people ducking out of sight as I pass. Nobody trusts anyone anymore. I arrive at what I now call home, which in reality couldn't even be called a building.

I dump my bag on the ground next to my small pile of food and bottled water. I wrap my sleeping bag around my shoulder and take out the wrinkled piece of paper from my pocket. I don't know how many times I've stared at this piece of paper contemplating my decision. It's a letter from the United States Army offering positions for anybody willing to fight. I have less than an hour left before they will come and pick up anyone prepared to fight for their country. The problem is they only want men or teenage boys.

I feel like there is a knife in my gut and everyday an invisible hand twists it deeper and deeper. Everything about applying for the army screams no, but I need to get away from this city, this city I used to love. At the back of my mind, I know I've made my decision but I can't bring myself to get up yet. I have all the clothes I need to pull myself off as a boy. They might not accept me, I might be sent back, but at least I'll have tried. Hurriedly, I pack my stuff up in a duffel bag and then pull on men's clothes. Last of all I take out switchblade and hack of my hair. Tears stream down my cheeks as I do it, something about it makes it official.

I leave the building, which has been my home for the past few months, without looking back. I see people gathering in the distance next to numerous army trucks. I stop several feet away and gaze at what used to be one of the most photographed skylines in the world. Now it's just a mess of broken buildings, not even worth looking at. But as the sun rises an eerie red glow spreads across the city and for the first time since the bombing, New York City looks magnificent again. I'm ready to fight. Fight for my country, fight for my life. And most of all I'm ready to fight for my survival.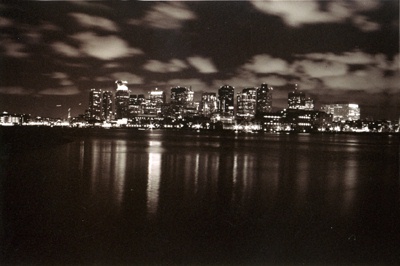 © Hoang P., Rochester, NY