Tell me a story tonight
March 24, 2013
There are moments-
****
"Hey you! – what? Waitin for a character to answer? It's YOU I'm talking to! You can't just barge in here, alright? You definitely can't distract him now! He's creating me, shoo! shoo!
Wait! Come back! He seems to be busy thinking, and I have plenty of time to talk. Oh my, lucky you! You get to witness the birth of a story today. Yeah, that's me. But the thing is, I don't really know for sure if I'll be a story; you see, the writer mostly writes stories, but when thoughts remain for a longer time in his mind, like I did, he writes poems. He once wrote a story about a fairy, and then chocolate, that's all. So the odds are pretty high that I'll be a story, but who knows? I may end up being a poem, right? A poem to live through time, awesome!!! But nah! we don't become poems for nothin. It's only those superior thoughts who get to be one. You see, at first, we all are thoughts, mere chemical impulses in the writers brain. A sprinkle of ink and a piece of paper and puff, we're born!
Talking about coming out, it's takin awfully long. Drat! I don't even know what I am yet (not that I'm hopeful or anything) This writer of mine is a poor guy, namely, a fat nerd. What can be worse? People feel sympathetic for fat dumbos, or skinny nerds. But none bother to bother about a fat know-it-all. So he writes stuff, and draws sometimes. (Hey, you look more interested in him than in me!) He is a strong guy, though, I've been scanning through his
brain all week , but today- Hmm! Run! He thought of a title!
***
Tell me a story tonight
***
" Huh! Is that even legal? Who's gonna tell the writer a story now? He named one of my brothers "A Hundred Years". No one even bothered to read it, they just didn't have the time! And now he needs a story. What's with the writers these days? Oh great, I'm surely a story now.

So, where were we? Yeah, with the writer. Today something happened. Something terrible, terrible happened. Another genius guy called him 'puffy', and then 'shotty', and that this made his brains useless. And he felt really hurt, I saw it in his brains. He didn't cry, nono, he doesn't cry, he just pours it all down in ink, and so I say I'm product of a good writer, whatever I'll be. Lets look at the bright side, who knows, I might end up being a play, and boy! with the line of the century, "To eat or not to eat, is always the question (I told you, he's fat), or maybe, "Whats in a Bolognese?" But ohh, who am I kidding? I ain't gonna be a play, or a poem. I'll just be a story trapped in some page for the dust to feed on, time to dissolve, like most stories do. Wish I were a diamond, though, you know, diamonds are forever! hihi!
Oh come on! He's not even moving his pens now, who thinks that long for a line when you already have a motive? God, it's you I'm stuck with now. Wait! Don't leave me, you can't just leave a fetus like that! Wait till I'm born. You better understand, even though I talk a lot, it's a rare, rare thing to see, a story being written, a painting being painted, a raindrop being trimmed, it's all art, and art we worship. So poem or no poem, happy or story, I'll still be an art, and guess I'll have to make do with that now, but do read me when I'm written alright?
Wait! What was that? Did he just move his pen? Oh boy oh boy oh boy! He's doing it! You seriously have to leave now, ok! Wish me luck! World of art, here I come!
***
Tell Me A Story Tonight

There are moments you have none,
and there are moments you have it all,
and then again,
there are moments you aspire,
between the hellos and goodbyes,
moments you are blindened with wishes for silver linings,
when the cloud is made of gold,
when hope seems like a story.
Then,
my friend,
remember me, in your memories,
in the charm of glowing diamonds in the sky,
in your echoing footsteps,
I shall come, and enlighten,
your happy story.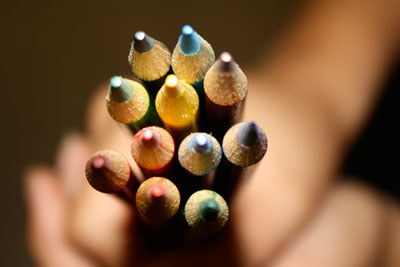 © Krista S., Newport Coast, CA