People of the Light (Part 1)
May 21, 2013
"Shh." The trees whisper as the sun begins to set. My heart beats a beautiful melody that never fails to accompany the sweet rhythm of my living breaths. There is little scenery to take in but I watch and I watch through my bedroom window awaiting the moment this inanimate world ceases to exist the way it does. Bending close to the dusty sil I analyze the afar movement. The little thuds against my chest grow stronger as an object grows clearer. A man of a broken heart at the least but a drunk nonetheless. He screeches old David Bowie tunes off key and dances in swerving motions. Poor soul. He is probably forty years old by the looks of his skin that appears to be trying hard to fight the aging. I can't help but feel sorry for his bad fortune, I sympathize deeply. My heart sways at the thought of this pure mind about to come in contact with the unknown.

"This is his destiny." I mutter to myself in order to resist the urge to be a hero. "This is his destiny."

But alas, it is not my destiny to remain a bystander. No it's not. I leap to my feet and race outside toward him. Shadows surround him and form into beings of some sort. I can't bring myself to call them human because they aren't. They aren't human, they are monsters - creatures of the night. I shout for them to stop but they ignore my presence completely. I am nothing to them but I refuse to be insignificant here, this is my territory and I refuse. Yet I fall stricken. I gasp for air, but I am drowning on concrete. I stare at the shadow people with bulging eyes and hopes of air to fill my lungs as they once did seemingly ages ago. It's channeling my mind causing images to flash in my minds eye and the sounds of fireworks to pop in my ears. Images of my childhood resurface all while my eardrums feel like they're being blown out and I cringe. Shocks of electricity travel down my spine but I fight until I can't fight anymore.

"The human is mine!" I scream but it comes out as a whimper. Then I fall. I fall into the darkness and I don't come back. Then there is a light, subtle and dim but a light. I hold onto it desperate to know what lies beyond it. I pray that it isn't heavens doors but it's too stale to resemble anything godly. It flickers making my heart mimic its exaggerated light dance. I finally realize I am still in my body, I can feel my bones aching so I must be hurt. It becomes clear to me that I am in a hospital, my mothers eyes frantic and exhausted staring at me from the corner of the room. She echoes my name but I don't hear it. I fall back into the darkness.

I awake in a gasping breath and feel my mother hovering over me. She smiles a sad smile. She places her hand on my forehead and studies my face.

"What happened?" I ask.

"You were hit by a car my dear," tears swell in her eyes "The driver says he only saw you when it was too late. He said you were hypnotized like a deer in headlights and tried to swerve but he couldn't dodge you in time and you didn't even try to move..."

"Am I okay?" I question.

"Who am I to know that Lana? Who am I to know?" Her voice trails off.
I clutch my ribs tight, I think I may have broken one and I sit up. She helps prop me up and I don't protest it. The doctor waltzes in and proceeds to inform us that the xrays they took show signs of a very small crack in my rib. They said it was very clean and it won't require much to heal except a little bit of time and taking it easy. My mother thanks the lord and I thank the doctor.

I am finally able to leave the hospital but I am on many painkillers that have yet to take away any pain. They said it will be another two hours before it wears off so they suggest I take some more as soon as time is up because although it seems like it's not helping it will become much worse once I'm not taking them. I nod at their directions and wobble out of the glass doors and into the car with my mother.

Two hours later my head spins but not from the pain. I am in a vortex of emotions and then suddenly everything stops. The gentle beat of my heart, the quiet ache of my body, the hum of lamp all gone. Gone as the man I tried to rescue. Gone like my belief that the paranormal didn't exist. Then I see it - a vision of death.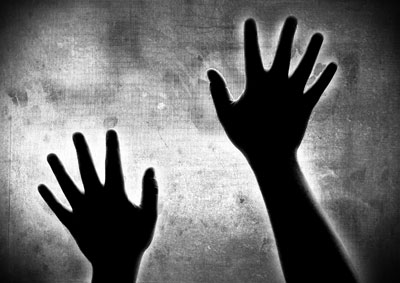 © Andrew F., Lake In The Hills, IL