Quiet, Tootsie!
July 26, 2013
"Itchy."
"Then scratch."
"Itchy."
"If you're itchy, scratch it."
"Itchy, itchy, itchy-"
"I SAID SCRATCH IT!"
"Can't reach."
I sighed as I reached down to scratch my dog, Tootsie, behind the ear. The one place he could never reach to save his life. A static filled "aaaaaaahhh" of relief crackled through the tiny microphone chip on his collar. How I wished I could rip that collar off him.
I sat back on my sofa, realizing that it would be illegal to do so. Apparently, dogs had rights now. One bold canine went so far as to take his owner to court. The dog, Bartok, claimed that his poor, overworked, underpaid owner wasn't spending enough time with him. But the case was dropped when the judge promised Bartok a big, juicy bone for every day his owner didn't play with him. Bartok happily agreed.
The nerve of some pets.
"Hungry."
Tootsie pawed at my foot, whining quietly. I threw my HoloBook aside, which dissolved into the sofa on contact, and marched to the kitchen. I heard my sofa beep softly. A woman's calm voice came over the intercom system of my house.
"HoloBook received. Would you like to bookmark your page?"
I cleared my throat and answered, "Yes, thanks."
A pleasant ding rang through the house as the woman spoke again.
"Page bookmarked. I have noticed that you are enjoying 'The Adventures of Tom Sawyer'. Allow me to recommend-"
I interrupted her harshly. "Forget it. Power off."
"Thank you for using, the iRelax Station Limited Edition. Powering off."
I had finished setting down Tootsie's bowl full of food down and watched as he greedily gobbled up every last treat. I decided to head to bed.
I let my DressMe Bots put on my TempControl pajamas and hopped into my bed that slid forward from the wall behind. I got under the sheets and took a deep breath. I was tired and ready for sleep to snatch me away to wonderland.
My bed came with a free version of My Dream. It was a program that would allow me to lucid dream. In other words, if I put on the NanoPatches that the program required, I could control my dreams. But I never used that silly feature. I preferred to let me dreams take me wherever they wanted to.
I was nearly fast asleep when I felt the entire bed shake.
"Play, play, play, play, play, play..."
Why did I ever get a dog?
I grumbled sleepily, "Tootsie, what time is it?"
I felt the dog lie down beside me. His wagging tail slapped my legs.
"Night time. Night time." He said happily.
"And what did I tell you happens to me when it's night time?"
There was a long silence as Tootsie tried to remember what I had told him a hundred times before. His tail stopped wagging and his golden muzzle took on a look of fierce concentration. He finally said "Sleepy! Sleepy!"
"Good boy. I'm sleepy. I want to sleep, okay?" I relaxed and closed my eyes.
"Not sleepy. Play, play, play-"
"HEAVEN HAVE MERCY!"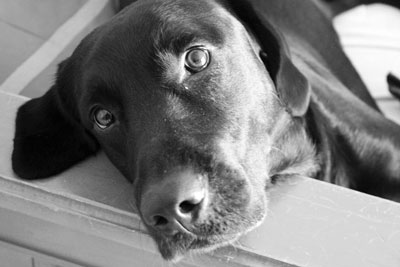 © Lindsay L., Snohomish, WA