Derelict; Introduction Revised
February 19, 2014
Someone is exactly who I am.

Living the life of the ordinary, stalking the fields of past and future with a plain mind, normal, average. I have the typical parents, if not a little eccentric, the typical friends, with their own twists, the typical world, orbiting around a lonely star cast out into the emptiness of space. Nothing truly unusual about it. I exploit the reigning skies of my future with an open mind, hoping that the universe doesn't implode on itself, that the government can hold itself up with the same ease it has for the past two decades for just a little longer. That everything will maintain a general calm throughout my life. Nothing particularly dangerous. Nothing truly shocking. Walking the streets among an endless torrent of other someones, other people leading a life shared by many, I look onwards and embrace a similar fate. An ordinary life, with ordinary days and ordinary lives. With people so very much like myself; known by those who bother to, but hidden to most who care little to look. But once known, they won't forget me, because in this vast, heartless universe, life isn't ordinary, and I'm not just any someone. Not all the time.

I'm not no one, either, but all that means is that I can be, as soon as the opportune moment drops into view. All it means is I have settled myself in a dedication where I have the mind to set change onto this world, onto my very own soul; yet silent, unnoticed, a no one who suddenly became someone. A graceful volunteer who put their foot forward for someone else, but was never ready to take that step. It means that in the endless fields of existence, I can lower my gaze to the sparkling grasses of my fate, my life, knowing that whatever happens, I will survive. It means, that in the darkened shadows of the future, I won't let that clawing darkness consume me. In the end, I will not be shallow.

It means that I will always remember. I will always stare into the golden blaze of the future and reconcile my past, taking it with me to decide my outcome; what I am, what I can be, and who I am meant to be. My worst enemy is fate, and it's hand tugs at the strings of my life. Even as I stalk the realm of time as a person of ordinariness, that doesn't mean that I have to constantly be normal. In fact, it means anything but.

Fate is coming for me. Darting ahead into the future without the slightest tip of its head turning back to look into the glowering eyes of past. No matter the time, no matter the business, it will always toy with my life, lifting the ends of my strings and forcing me into a new act. Perhaps the act of the average someone; or, perhaps, the act of the hidden no one.

But whatever the act, when it arrives, something bigger will be held in its arms. Something worse. Something terrible. And fate, again, will be the one holding in a single palm the strings of that monstrosity; in the other, the world dangling on a thread. On a single, vital moment, where as the world is about to lose everything, someone will emerge who knows there is nothing to lose. Nothing that we aren't willing to fight for. Nothing that we won't allow, instead stepping up as the graceful volunteer, to be strung into fate as a delicate new act; only to plunder the stage.

When it comes, I won't be just any average someone. Not just the person of ordinariness that I am forced to act out as the time inches onwards into the arms of a fate whom casts it's glare forward, never looking back, never wavering from what it thinks must be done. When it comes, I will open my eyes to see a new light; the light that fate always insists to shed on me. The light of darkness. When it comes, my life as I knew it, will disintegrate into nothing but a flickering image of the past. An endless history that fate never glances back at, only casting a single wink for a final goodbye, forgetting the very core of its own life. It should have looked back, just a second more. It may have learned. It may have lived longer than it insisted, rather than denying the success of past and letting itself crumble; it might have shown more courage if it had. But no matter all the chances it was given to alter the course of its own existence, one thing is for certain. One, single, raging truth burning its way into my soul, never wavering, never faltering, and always looking back.
Because when it comes, I will fight with my life.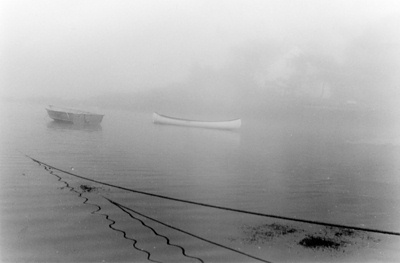 © Steve S., Marblehead, MA