Scintilla; Introduction
February 27, 2014
I am me.

You are you.

All of us, simply ourselves. Nothing more and nothing less; we are who we are, and although change struts by every once and awhile, life goes on, and we stay just as we were.

But sometimes change is too much. Sometimes change insists upon forging secrets into our history, into ourselves. Secrets that cower in the darkened corners of the mind, watching and waiting, yet never acting. Some are never told; change has fashioned a wicked edge to them, one that isn't dare used. Some slip into the open; over time, change morphs itself, dulling the ragged edge feared before, creating simple nothings that matter little to anyone other than the one who wields them. There are always tales to be told that prefer to sidle in the shadows, lurking where no one wants to look, because those who wield them fear facing the unmasked truth.

And some people let those secrets, those wicked edges, bore into them for all of eternity. Others let them go, keeping them for some time before letting history blot them out; but there is always the few who insist on clinging to them until there is nothing left to cling to; just wisps of dust trailing through the air.

I don't want to say it, but I am one of those people. The ones who cling until all they have left to cling to is the dust of their past. I don't want to believe it either, which just might be the reason why those secrets insist on pocketing themselves in the folds of my history. Because I don't want them, and I don't want to know that I have them; to me, ignorance can be a bliss. But I have also learned that ignorance, however tranquil, always resides to being a curse in the end.

I was built out of ignorance. Out of unwanted secrets tucked out of view. My world gave me its secrets, the secrets that it never even knew it had. It forged me out of its own change, and I let that very same change fashion me into an oddity; in the end, what does that make me? I suppose that I could be called a secret. Or I could simply be a result of ignorance.

Or I'm just something new.

Something so new, that it seems that my whole life, my whole existence and the very few who have ever treasured it all, crumble to dust at my touch; a dust that I can only cling to, because it's all I have left. Something so new, something so abnormal, and yet so strangely common, that I am trapped in my own secrets and ignorance, caged in the few things I have left to claim as my own.

My ignorance went first. As I began to plunder through my life, I found that my eyes could only see the deceit that had been left for me to find. I realized that my own truths, beliefs, were only misconceptions of a false reality. With every step I took into the future, more of that deceit fell away, a torn veil that I had peered through unknowingly before, clouding my vision from a world I could not see. And with every step, more the truth was given to me. It began to formulate a reality, one that I had walked through blindly; but now, one that I could exploit freely. A reality so grim, so dark, that I had almost willed the mask to be refitted over my eyes; but once broken, there is nothing that can mend truth into a lie, for the lie was mended into truth.

Next came my integrity. Because no one else could see this truth; all they were capable of was to peer through their own masks, never willing them to shatter, never knowing that they were there to break. I was the only one who saw reality for what it was. I was the only one who could pick out truth from an ocean of lies; the concoctions of deceit that form their worlds. I was alone in the curse that had befallen me, a loner to witness the world fall apart, helpless. Hopeless.

And then went my freedom. Because as soon as they realized that I saw truth, they found the spare parts to keep me from letting that truth be known. They lunged for me and caught hold, chaining me to the world of lies. Spinning me around, dazed and unable to comprehend their incentive, they threw me into a blind society. A society I should never be near, much less take part in. When I try to run, they push me back in; when I try to hide, they drag me into the open; when I try to disrupt, they usher me into the shadows. But when I try to integrate, they only smile.

They don't know who I am, what I have seen. They have never known, and it is my hope that they never do. They are veiled by ignorance; and though it may be bliss for now, all it takes is a single scintilla of change. A single breath; a single drop.

And then the scintilla roars into a fire.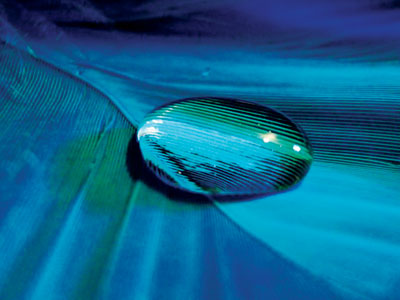 © Hui Y., Potsdam, NY