Government Puppet
February 28, 2014
I sat up in my bed, aghast. I had been living an arcane life for nearly twenty years, and I guess I knew it was only matter of time before the government found me. I stood up slowly and dashed towards the single window in the broken house. The official put his hands to his mouth, and shot a sharp dart into my arm. I pulled it out and read the label.
WARNING: Lethargy dart. Use with extreme caution. All results are temporary, but may last up to ten hours.
I groaned as the toxins within the dart began to ravage my body. I collapsed back onto my bed as my ability to move diminished. The official grabbed my arm and dragged me out of the dank room into the fresh night air. He injected another drug into me, but I was unconscious before I could see what it was. I awoke in a small room. I tried to move, but my entire body had been restrained to a cold metal table. The same official that had kidnapped me walked into the room, and my rancor for him returned. His hubris was obvious as he walked towards me with a smirk on his face. The government was the epitome of evil, and this certainly was one of its many minions. I glared at him, but he only laughed.
"So nice to see such an old friend," he said. I melted at his words, and memories poured into my thoughts, but I pushed them away; that was the past. He began his typical harangue and I seized the opportunity to contemplate my escape. I shook my head as softly as possible, and one of my bobby pins emerged. I grabbed it in between my teeth and freed myself from the table. I jumped down, and he stared at me, obviously impressed by my ingenuity. I ran towards him as quickly as I could, but he didn't flinch. I jumped onto him, and I came crashing to the ground.
"Silly girl," he chuckled. "I am merely a hologram." I tried as hard as I could to be angry, but it was difficult. His eloquent speech was what had drawn me to him in the first place. He noticed how weak I got when he spoke, and I could tell he was planning on taking advantage of our past love. I heard a soft buzz and suddenly many robotic arms restrained me. I tugged, but it was futile. The government's lack of frugality had always driven me crazy. Especially since this junk was where all of our hard earned paychecks were going. He laughed as he watched me become more and more diffident. The situation had become inescapable, and we both knew it.
"Your attempt to subvert the government truly opened our eyes," he said, his voice becoming deeper and more serious. "To recruit people now, we do more than sequestration therapy to break people down."
"Nice to know you've grown," I cut in sarcastically. He shrugged and the image began to fade.
"See you on the other side," he said flatly, and the holographic image faded away. I laughed to myself. After what I had experienced, there was no way that I was going to give in to the government. The room around me changed into swirl. It seemed like I was looking at a 2-D swirl, and not a normal room. Although I was angry, I had to marvel at the technology put into the room; it certainly was state of the art. The lights began to flash inconsistently, and the swirl spun slowly. Staring at it felt so relaxing, and my mind could just drift…I shook my head, surprised at how quickly my mind had given in. I tried closing my eyes, but closing them made fighting it harder, and every few moments my mind would drift into sleep. I opened my eyes again. My will was completely shot, and I felt myself getting pulled into the swirl. I went limp and allowed it to take me in. The world went dark and I heard only two words before I completely lost consciousness: Commence programming.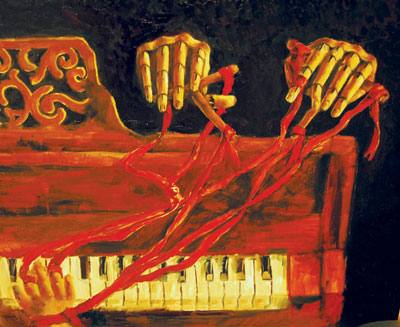 © Bonnie S., Fremont, CA